OCC and OACD Participate in White House Water Quality Summit
Shanon Phillips, director of the Water Quality Division of the Oklahoma Conservation Commission (OCC), and Clay Pope, executive director of the Oklahoma Association of Conservation Districts (OACD), were invited to discuss what makes Oklahoma's nonpoint source program so successful and to discuss ways that the Environmental Protection Agency (EPA) and the United States Department of Agriculture (USDA) could cooperate to protect water using voluntary programs.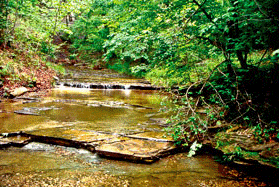 According to Phillips, the presentation Oklahoma gave touched on the keys to making voluntary conservation programs successful and proving that success.
"Our water quality monitoring program is one of the things that sets Oklahoma apart from other states," Phillips said. "Very few states have as large and consistent a monitoring program as Oklahoma does. And monitoring is vital to proving whether your implementation of land management practices is affecting the water for better or worse or indifferently," Phillips said. "Our monitoring program is how we know our implementation is having success in improving water quality," she said.
According to Pope, this was a great opportunity to tell federal officials why voluntary, locally-led, cooperative programs are showing such great success in reducing nutrients and other pollutants from Oklahoma's waters.
"We were honored to have the chance to tell Oklahoma's story on water quality and conservation," Pope said. "When you see the success we have had in Oklahoma in taking streams and stream segments off of the EPA impaired list and when you consider the fact that our state consistently ranks near the top in reducing nonpoint source pollution in our water, we must be doing something right. We feel that Oklahoma is showing that if you work with farmers, ranchers and other landowners through voluntary programs that are run correctly, and if you work to maximize cooperation with EPA and USDA, you can make a difference in water quality without heavy-handed regulations and do it in a way that is popular with landowners."
"If you have a strong partnership with local conservation districts, and allow them to take the lead, it makes all the difference," Pope said. "If you have local people – folks who are trusted by local landowners — taking the lead, it is far different than having someone from the state or federal government being in front and being viewed as trying to push a program on people. We feel the approach we have in Oklahoma is a great model in addressing nonpoint source pollution in water and we hope our presentation had an effect in helping ensure that effective voluntary programs are the direction the federal government continues to take in addressing water quality."
Click here to see a presentation given to the Working Lands and Healthy Watersheds Roundtable.