OACDE and OCC Provide CPR and First Aid Training to Conservation District Employees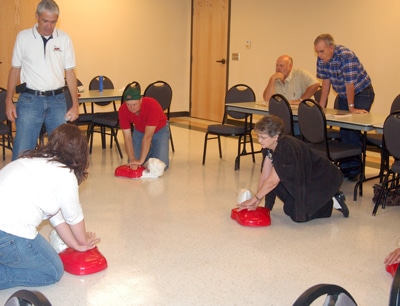 Approximately 75 conservation district employees and a few Conservation Commission staff participated in Cardio Pulmonary Resuscitation (CPR) and First Aid Training in August. Five sessions – one in each Conservation Commission Areas – was sponsored by the Oklahoma Association of Conservation District Employees (OACDE) with assistance from OCC. OACDE area directors coordinated the participant signups.
Darrell Gable, an independent safety consultant and trainer, instructed at daylong sessions in Claremore, Woodward, McAlester, Hobart and Shawnee. Participants numbered from 12 to 22 at the sessions. The morning session focused on CPR training with "hands-on" activities with state-of-the-art practice dummies. After a lunch break, discussion and demonstrations centered on First Aid. Gable distributed take-home publications on CRP and First Aid published by the Red Cross organization.