OACD Hosts NACD South Central Region Meeting 2007
Water: Don't Gamble With Your Future!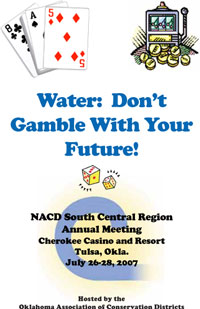 The Oklahoma Association of Conservation Districts (OACD) will host the Annual South Central Region Meeting of the National Association of Conservation Districts (NACD)on July 26-28. The conference will take place at the Cherokee Casino and Resort at Catoosa, Okla.
Scheduled speakers include NACD President Olin Sims, OACD President Scotty Herriman, and Oklahoma Conservation Commission (OCC)Executive Director Mike Thralls. Cherokee Nation of Oklahoma's Principal Chief Chad Smith will provide the welcoming speech during the opening session at 9:00 a.m. on Friday, July 27. Representatives of the four states in the regions – Arkansas, Louisiana, Oklahoma and Texas – will discuss current conservation efforts in their home areas. The Louisiana representatives will provide a conservation perspective of recovery efforts since Hurricanes Katrina and Rita. Staff from the OCC Water Quality division will explain ongoing and new activities to protect the water quality in northeast Oklahoma.
The conference will close with an optional bus tour to examine issues challenging to Tulsa's drinking water supply and steps being taken to address those issues. The tour will visit Lake Eucha and the Spavinaw Creek Watershed Demonstration Farm where a number of conservation practices are in place to protect water quality.