NRCS Chief Visits Oklahoma Capitol
USDA Natural Resources Conservation Service Chief Dave White Marks Agency's 75th Anniversary at State Capitol and Praises Oklahomans' Understanding of Natural Resources Conservation.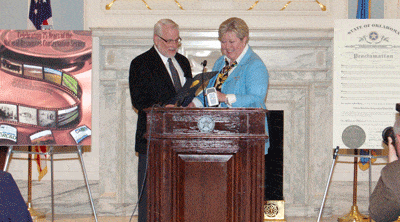 Dave White, Chief of the USDA Natural Resources Conservation Service, visited Oklahoma on April 19 and 20,2010. During a press conference at the state Capitol commemorating NRCS' 75th anniversary, he praised the people of Oklahoma for their "deep and unique understanding of the importance of conservation." White spoke at the special event at the Capitol.
"I am honored to be in Oklahoma to kick off the anniversary celebration of the NRCS," said White. "The partnerships that NRCS has with Oklahoma's conservation districts, the Oklahoma Conservation Commission and the state's farmers and ranchers continue to set examples for the entire nation."
NRCS, formerly the Soil Erosion Service, then the Soil Conservation Service, was created in response to the Dust Bowl, a disaster that ravaged land in Oklahoma and surrounding states and impacted the entire nation during the 1930s. President Franklin D. Roosevelt signed the bill creating the agency on April 27, 1935.
Acknowledging the invaluable service NRCS has provided to Oklahoma since the Dust Bowl, Gov. Brad Henry issued a Governor's Proclamation designating April 19, 2010, as Natural Resources Conservation Service Day in Oklahoma. Lt. Gov. Jari Askins presented the proclamation to Chief White on behalf of Gov. Henry and cited Oklahoma's long history of leadership in conservation.
Trey Lam, president of the Oklahoma Association of Conservation Districts, and Mike Thralls, executive director of the Oklahoma Conservation Service, also spoke at the conference. Ron Hilliard, NRCS state conservationist for Oklahoma, introduced Chief White.
"I want to thank Governor Henry for this proclamation," White said. "Oklahoma has a special place in the heart of all of us at NRCS. We've done a lot of pioneering work here over the years that's benefited folks all over the country."
Citations also were presented commending NRCS on its anniversary. Congressman Frank Lucas sent a Congressional Citation and state Sen. David Myers and Rep. Dale DeWitt authored a state Legislative Citation commemorating the event.
Reporter Ron Hays has posted two stories about Chief White's visit on the Oklahoma Farm Report website; the second one includes a podcast radio interview with White. Here are the links:
NRCS Diamond Anniversary Celebrated in Oklahoma by NRCS Chief Dave White
Born as a New Deal Agency, Today's NRCS is the Real Deal- We Talk with NRCS Chief Dave White
Chief White will attend a dedication ceremony for the Turkey Creek Site 3 Upstream Flood Control Dam in Garfield County, near Enid — the first new dam completed through the American Recovery and Reinvestment Act, a conservation first for Oklahoma.