No-Till Wheat Flour Mill Open House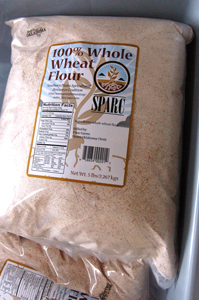 The Southern Plains Agricultural Resources Coalition (SPARC) in cooperation with Great Plains Resource Conservation and Development Council (RC&D) hosted an Open House event at P Bar Farms near Hydro on Sept. 7. The farm is the location of a new flour mill to produce whole wheat flour from wheat grown only by farmers practicing no-till farming. The sponsors and farmers hope this venture will be a successful marketing project that develops a premium-priced market for "identity-preserved" wheat grown using no-till techniques.  By "identity-preserved" wheat, the sponsors' intention is that it will be possible to open a bag of flour from the mill, know who the farmer was who grew the wheat, and hopefully in the future take a virtual tour of his farm via the Internet. Immediate benefits include making flour available that will qualify for the Oklahoma Farm-to-School program and that bakeries can confidently label as grown in Oklahoma.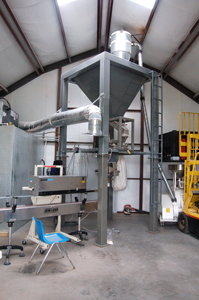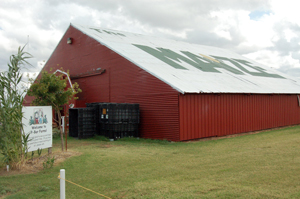 Loren Liebscher, owner of P Bar Farms, has incorporated the flour mill, Stone Stack Mill, into the overall education and Agritourism experience at his business which is also the location of The Maize, an intricate pattern of twists and turns carved into a seven-acre cornfield. The mill building has a small classroom with a window allowing students to watch the mill in operation. From here they can go into his main classroom for his bread baking demonstration, except now this demonstration will be done with flour milled on-site instead of store-bought flour.  In addition to milling the flour, it will also be available for sale in the Country Store at the farm.
"The incentive for the wheat farmer is being paid mill price for his flour that is much higher than grain elevator price," said Larry Wright, Great Plains RC&D coordinator. "The goal is to help encourage more farmers to practice no-till farming techniques that are more ecologically sustainable than traditional techniques and help prevent soil erosion and improve water quality," Wright said.