National Watershed Conference held in Oklahoma City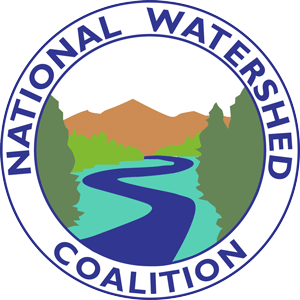 The 12th National Watershed Conference was held in Oklahoma City, May 15-18, 2011. More than 160 local, state, tribal, regional, and federal watershed, floodplain, and natural resources program managers and project sponsors from 22 states attended the conference. Presentations and discussions at the conference included flood control, water quality, rehabilitation of aging flood control dams, emergency action plans, current and future budgets for the USDA Watershed Program and other water resource and conservation issues.
Speakers for the conference included Oklahoma Congressman Frank Lucas who authored the Rehabilitation Amendments to the PL-83-566 Watershed Protection and Flood Prevention Program. These amendments authorized the USDA Natural Resources Conservation Service (NRCS) to provide technical and 65 percent cost share assistance to rehabilitate high hazard flood control dams. Dave White, NRCS Chief, and Dr. Ed Knipling, USDA Agriculture Research Service Administrator also spoke at the conference.
A special ceremony was held during the conference recognize the designation of the USDA-Small Watershed Program as a national historic landmark in agricultural engineering by the American Society of Agricultural and Biological Engineers (ASABE). (See "Small Watershed Program Recognized as a Historic Landmark.")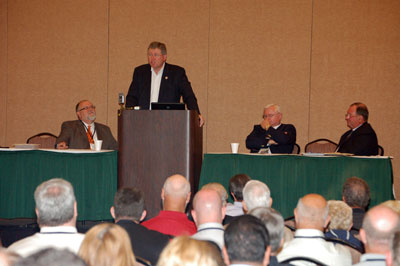 Congressman Lucas, chair of the U.S. House Agriculture Committee, stated that 23 of the 46 committee members are freshman Representatives. And about the same number have no direct link to agriculture or rural life or significant knowledge of the Small Watershed Program. The ongoing efforts by concerned groups and individuals to educate legislators about issues of interest is vital to continuing support of the issues like the Small Watershed Program, he said.
The budget agreement recently reached in the nation's Capitol for the remainder of fiscal year 2011 contained no funding for continuing the Watershed Program and only $18 million nationally to continue the Watershed Rehabilitation Program.
"Just because the funding has gone away does not mean the need has gone away," NRCS Chief Dave White said. It is estimated that the Watershed Program has created a $15 billion infrastructure of flood control dams and associated conservation practices that provide over $2 billion in average annual benefits to 48 million people.
Oklahoma has been a leader in flood control for over 60 years constructing 2,107 flood control dams in 61 counties that provide $82 million in annual benefits to the state. The first flood control dam built under the USDA Watershed Program was in Washita County in 1948. Oklahoma was also the first state to rehabilitate a USDA – assisted flood control dam (Sergeant Major Creek Dam No. 2 in Roger Mills County in 2000). Oklahoma's 87 conservation districts are primary sponsors of most of the watershed projects and are responsible for operation and maintenance of the dams.
The four-day conference, "From Local to Landscape: A Watershed Based Approach," was co-sponsored by the National Watershed Coalition, Oklahoma Conservation Commission and Oklahoma Association of Conservation Districts.
The first National Watershed Conference was held in Oklahoma City in 1989, when the National Watershed Coalition was formed replacing the Watershed Congress which had been active since 1951. The National Watershed Coalition is a nonprofit organization composed of national, regional, state, and local organizations, associations, and individuals who advocate using watersheds as the planning and implementation unit when dealing with natural resource problems. The headquarters for the NWC is located in Chandler, Okla. www.watershedcoalition.org