Murray County Conservation District Hosts Congressman Tom Cole on Watershed Tour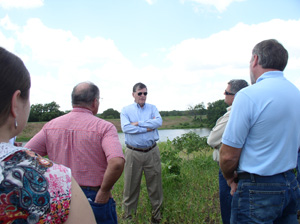 The Murray County Conservation District hosted Fourth District Congressman Tom Cole on a watershed tour on July 1, 2013. The Congressman visited two upstream flood control structures in the Rock Creek Watershed.  Both of the dams are categorized as high-hazard structures.  NRCS is in the initial planning process to modify the structures to meet current dam safety criteria.  
John Cagle, Chair of the board, represented the district along with Tammy Curry, District Secretary and Charlie Pyka, Watershed Aide. The tour provided the Congressman an understanding of the challenges facing conservation districts with high hazard dams and the continuing need to appropriate funds for the NRCS watershed rehabilitation program. NRCS was represented on the tour by State Conservationist Gary O'Neill, Project Engineer Joe Freeland, Public Affairs Specialist Tom Lucas and Soil Conservationist Tiffany Green. Representing the Conservation Commission was Watershed Technician Dennis Boney.