Mount Saint Mary High School Visits Rogers Reserve
Submitted by Robert Gibbs, Rogers County Conservation District
The Oklahoma History class at Mount Saint Mary High School has been visiting the Rogers County Conservation District Conservation Education Reserve for the past two years as a part of their curriculum and is scheduled to return on July 17, 2012. Mount Saint Mary High School is a Catholic private school located in Oklahoma City that offers Oklahoma History as a two-week class during the summer for ninth- to 12th-graders.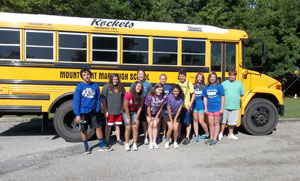 David Anderson, one of their instructors learned of the Reserve, located in Claremore adjacent to Rogers State University, on the television show Outdoor Oklahoma. He began bringing his students two summers ago where they learned not only about the diversity of Oklahoma but also participated in one of the most popular programs offered at the Reserve. The students put on waders, gathered specimens from wetlands and then brought the specimens back to the reserve's aquatic lab to analyze them.
"The students and their instructor had an enjoyable experience and, as good news travels fast, we now have had other instructors from the Mount Saint Mary High School Oklahoma history program visit the Reserve and more scheduled," said Robert Gibbs, Rogers County Conservation District education coordinator. "In the last few years, we have had many groups visit us from around the state as the quality of our programs becomes better known," Gibbs said.
For more information about the educational programs at the Reserve in Claremore visit the district website at: www.rogerscountyconservationdistrict.org