Mike Thralls Receives Water Pioneer Award
Download photos and news release.
Mike Thralls, recently retired Oklahoma Conservation Commission executive director, received the Oklahoma Water Pioneer Award at the Governor's Water Conference hosted by the Oklahoma Water Resources Board at the Cox Convention Center on October 22, 2014.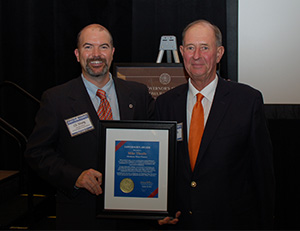 Since 1985, the award has been presented annually to honor Oklahomans who have made significant contributions in the planning, development, management and conservation of Oklahoma's water resources. During his 17 years of service to the Conservation Commission and on his own farm, Thralls has made considerable contributions. His vision led to the creation of the state's first Locally-Led Conservation Cost-Share Program, enabling almost 10,000 Oklahoman's to participate in voluntary natural resource conservation since 1998. He also oversaw establishment of the Conservation Reserve Enhancement Program, which has improved water quality in northeast Oklahoma by planting 107,773 trees that filter water runoff from 9,588 acres of land.
"Mike's public service to Oklahomans has manifested in many ways throughout his long and distinguished career," said OWRB executive director J.D. Strong. "The Oklahoma Water Pioneer Award has been awarded to a renowned group of Oklahomans, who just like Mike, have gone above and beyond to ensure that all Oklahomans have access to clean water resources for many decades to come. Having worked alongside Mike for many years, it is an honor for me to be a part of recognizing his dedication and service to Oklahoma's water users."
Past award recipients include Senators Henry Bellmon and Robert S. Kerr, Governors Raymond Gary and George Nigh, and former Conservation Commission executive directors Mason Mungle and Leonard Solomon.
Thralls retired in September 2014 after 17 years as Conservation Commission executive director. He continues to utilize and promote conservation practices beneficial to water quality and soil health on his farm in Billings, Oklahoma.