Mike Rooker of Dale Reappointed to Conservation Commission
The Oklahoma Conservation Commission received notice that on March 2, 2012, Gov. Mary Fallin reappointed Mike Rooker to serve a second five-year term representing central Oklahoma on the Oklahoma Conservation Commission. Gov. Brad Henry first appointed Rooker to the post in May 2007and the state Senate confirmed the appointment the same month, with his term beginning in July of that year. Current Senate confirmation is pending.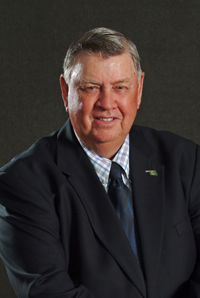 Rooker, a life-long resident of Dale, has been a full time farmer since he and his brother took over the family farm when they lost their father in 1952. The operation included a dairy in which he also partnered with his brother until 1994. All the hay and grain for the operation was raised on the farm. He is co-owner of Rooker Farms, which includes a cow/calf operation.
Upon graduation from high school, Rooker received the Jr. Master Farmer Award, the Richards Award and the DeKalb Award. He was a member of the Conservation Leadership 2000 class and was named Ag Business Person of Shawnee the same year.
Rooker has served on the board of directors of the Shawnee Conservation District since 1994. Prior to that he served 15 years as a county committee member for the Farm Service Agency. Mike has served on the Sales Tax Advisory Committee for Shawnee twice. He also currently serves on the Cross Timbers Resource Conservation & Development Council.
Rooker's hobby is restoring antique tractors and farm machinery and he serves as chairman of Shawnee Tractor and Engine Club's Vintage Equipment Committee for SeptemberFest held annually at the Governor's Mansion.
Mike and his wife Chris have three sons and seven grandchildren.
Conservation Districts in Area II
Arbuckle
Cleveland County
Garvin
Kay County
Konawa
Lincoln County
Logan County
Love County
McClain County
Murray County
Noble County
Oklahoma County
Pawnee County
Payne County
Seminole County
Shawnee