Melvin Welch, Centenarian Conservationist
Former Conservationist Joins Stars in Celebrating Statehood
The Oklahoma Centennial Spectacular Celebration, held at the Ford Center in Oklahoma City on Nov. 16, topped off a yearlong celebration of one hundred years of statehood. It was a star-studded event with stars including Reba McIntire, Vince Gill and Garth Brooks.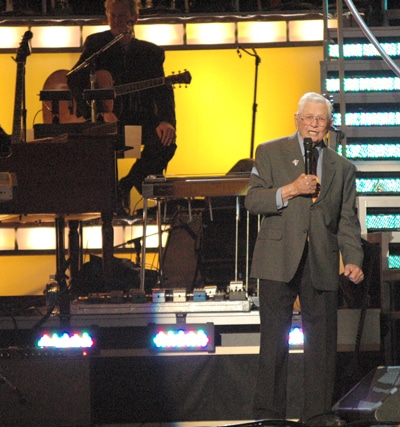 But it was Melvin Welch from Helena that may have attracted the most attention. Melvin sang the original Oklahoma State song, "Oklahoma, a Toast." Melvin is a 101-year-old farmer, former teacher and one-time soil conservationist. When asked how he thought he did when singing the song, he very humbly said, "Well, they did give me a standing ovation and after I left the stage they tried to get me to come back up and do an encore, but I just didn't want to climb back up those steps and figured folks had heard enough."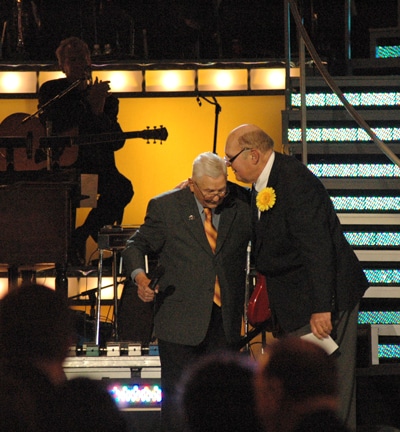 Melvin has lots of conservation ties. After graduating from Oklahoma A&M in 1928 he helped establish a Civilian Conservation Corps camp in Geary and help plant some of the state's original shelterbelts. He worked for the USDA Soil Conservation Service (now the Natural Resources Conservation Service) for 15 years in Seiling, Talihina, Wewoka and Stillwater and a few years in Texas. He later taught junior high science in Wichita, Kan., before retiring back to the farm in Oklahoma.
Melvin graduated from high school with OCC Executive Director Mike Thralls' grandfather, Kenneth Thralls, and he said that Mike's grandmother, Grace was his first girlfriend. Melvin's brother Harold was also an SCS employee.
Melvin throughout his life has continued to farm and practice conservation on the same farm where he was born in 1906. He still drops by the NRCS office and attends conservation district events. Melvin and his wife Martha currently live on their farm located a mile north of Helena in Alfalfa County. "I move a little slower these days, but I can still crawl up on my tractor and do some work," said Melvin.