Mardi Gras Muskogee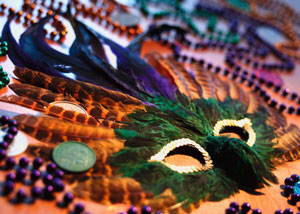 The Cross Timbers Resource Conservation and Development Council (RC&D), along with Muskogee County Conservation District, the Muskogee Chamber of Commerce and others, are hosting "Mardi Gras Muskogee" on Feb. 9, 2012. The masquerade ball will be held at the Muskogee Civic Center beginning at 7 p.m. The event will include a truck raffle, a live band, cake bake-off, best mask competition and a silent auction. There will also be "games for guns," sponsored by the National Wild Turkey Federation.
Individual tickets purchased by Jan. 27 are $50, or $200 for a truck raffle ticket and two individual tickets. Tickets at the door will be $65 each. Proceeds from the event will be used to help fund RC&D activities for rural development and resource conservation. All federal funding for RC&D was cut nationwide in 2011.
For more information contact Trish Kloekler at 918-441-2372, or Kathy McBride at 918-623-0658, or look at http://www.crosstimbersrcd.org online.