March Events at the Capitol
Week of March 24-27 jam-packed with exciting, open to the public, events at the State Capitol
Conservation Day
Monday, March 24, 2014
9:00 a.m. – 3:00 p.m.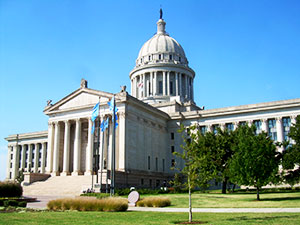 Conservation districts, Oklahoma Conservation Commission (OCC), Oklahoma Association of Conservation Districts (OACD), Natural Resources Conservation Service (NRCS), and conservation partners and sponsors will have exhibits around the fourth floor rotunda to showcase conservation work being done across the state.
Starting at 9:30 a.m., an awards ceremony will take place in the Senate chamber to honor 2013's conservation superstars. Lieutenant Governor Todd Lamb and Secretary of Agriculture Jim Reese are expected to attend as outstanding landowners, conservation district employees and directors, and media partners are recognized.
Following the awards ceremony, a press conference hosted by Clay Pope, Oklahoma Association of Conservation Districts executive director, will reveal exciting news about Oklahoma's successes in reducing pollution to our water.
The grand finale comes at 2:00 p.m. on the fourth floor rotunda with a demonstration of the rainfall simulator. The simulation shows what happens when it rains on a conventionally tilled field and a no-till field. When water is applied to the soil, viewers will learn how various conservation practices affect the health of soil biology and its ability to take in nutrients and water.
Ag Day
Wednesday, March 26, 2014
10:00 a.m. – 2:00 p.m.
If you're coming to Ag Day, come hungry. The Made in Oklahoma exposition on the fourth floor rotunda is renowned for its tasty free samples from agriculture commodity groups and companies.
At 10:00 a.m. on the first floor rotunda, Ag in the Classroom coordinators will recognize students for exceptional contest submissions in the categories of poster, story board, and essay.
Once the crowd is good and stuffed from all the yummy Oklahoma-made treats, they can gather near the Capitol's Blue Room at 2:00 p.m. to congratulate Rodd Moesel on his induction into the Oklahoma Agriculture Hall of Fame. Go, Rodd!
GIS Day
Thursday, March 27, 2014
9:30 a.m. – 2:00 p.m.
Ever wonder where the maps come from that we use every day? From cleanup maps produced in the aftermath of the 2013 Moore tornado to visualizing Oklahoma fish populations, geographic information systems (GIS) are the engines behind our navigable world.
Surrounding the second and fourth floor rotundas, the GIS exhibition will showcase the great work and amazing technology of public and private sector GIS professionals. In previous years, booths have featured huge touch screens and interactive displays that let the public and legislators get hands on with some very high end electronics. Tech aficionados and the public at large should be very pleased with this year's offerings.
GIS Day allows legislators and the public to see how more than 50 federal, state, county, and municipal agencies use GIS technology every day to better serve the public.

"GIS is any system for capturing, storing, analyzing and managing data and associated attributes which are spatially referenced to Earth," said Mike Sharp, Oklahoma GIS coordinator. "If you have a GPS system in your vehicle, on your cell phone, or have created a map on a computer program to get somewhere, you have already used a Geographic Information System (GIS) and may not have even known it. But you can touch and see how these incredible advances are impacting your life at the 20th annual GIS Day at the State Capitol March 27th."

GIS technology can be used for scientific investigations, resource management, asset management, environmental impact assessment, urban planning, cartography, criminology, history, sales, marketing, and logistics. For example, GIS might allow emergency planners to easily calculate emergency response times in the event of a natural disaster. GIS might be used to find wetlands that need protection from factory emissions or by a company to site a new business to take advantage of a previously underserved market.

We hope you can join us for this great event.