Leopold Conservation Award Program Seeks Oklahoma Nominees
Know an Oklahoma rancher, farmer or forester who goes above and beyond in the care and management of natural resources?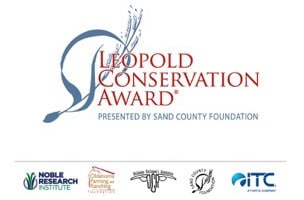 Nominate them for the 2018 Oklahoma Leopold Conservation Award®.
Sand County Foundation, the nation's leading voice for private land conservation, presents the Leopold Conservation Award to private landowners in 13 states for extraordinary achievement in voluntary conservation.
Given in honor of renowned conservationist Aldo Leopold, the award recognizes those who inspire others with their dedication to land, water and wildlife habitat management on private, working land.
In his influential 1949 book, "A Sand County Almanac," Leopold called for an ethical relationship between people and the land they own and manage.
In Oklahoma the $10,000 award is presented annually by Sand County Foundation, Oklahoma Cattlemen's Association, Noble Research Institute, the Oklahoma Farming and Ranching Foundation, and ITC Holdings Corp. Additional support comes from Oklahoma State University, Oklahoma Association of Conservation Districts, and the U.S. Department of Agriculture's Natural Resources Conservation Service.
"Nominating a farmer or rancher you know, or self-nominating your own operation, is a great way to celebrate the hard work and commitment to land stewardship," said Kevin McAleese, Sand County Foundation President and CEO. "And it goes a long way to helping the urban public appreciate the important role that private landowners play in protecting and enhancing the environment."
2017's Oklahoma Leopold Conservation Award recipient was Emmons Farm, owned and operated by Jimmy and Ginger Emmons of Leedey.
Nominations may be submitted on behalf of a landowner, or landowners may nominate themselves. The application can be found at here.
Applications must be postmarked by July 1, 2018 and mailed to: Leopold Conservation Award, c/o Oklahoma Farming and Ranching Foundation, 2501 N. Stiles, Oklahoma City, OK 73105.
---
The Leopold Conservation Award is a competitive award that recognizes landowner achievement in voluntary conservation. Sand County Foundation presents the award in California, Colorado, Kansas, Kentucky, Missouri, Nebraska, North Dakota, Oklahoma, South Dakota, Texas, Utah, Wisconsin and Wyoming. www.leopoldconservationaward.org
Sand County Foundation is the nation's leading voice for private conservation. Based in Madison, the non-profit organization is dedicated to working with private landowners to advance the use of ethical and scientifically sound land management practices that benefit the environment. www.sandcountyfoundation.org
Noble Research Institute, headquartered in Ardmore, Oklahoma, is an independent, nonprofit institute conducting plant science research, plant breeding and agricultural programs to enhance agricultural productivity, which influences agriculture regionally, nationally and internationally. The Noble Foundation also provides grants to nonprofit charitable, educational and health organizations. www.noble.org
The Oklahoma Cattlemen's Association represents the interests of Oklahoma's cattlemen at the Oklahoma Legislature. The OCA has continued an aggressive course of action supporting proactive legislation and challenging anti-industry legislation and regulations. The OCA exists to support and defend the state and nation's beef cattle industry. www.okcattlemen.org
The Oklahoma Farming and Ranching Foundation is a 501 (c)(3) non-profit committed to educating citizens of all ages on the importance of production agriculture and its impact on everyday life. From promoting and assisting beginning farmers and ranchers to educating youth interested in agricultural pursuits, the foundation creates agricultural awareness. www.okfarmingandranchingfoundation.org
ITC Holdings Corp. is the largest independent electric transmission company in the United States. Based in Novi, Michigan, ITC invests in the electric transmission grid to improve reliability, expand access to markets, allow new generating resources to interconnect to its transmission systems and lower the overall cost of delivered energy. Through its regulated operating subsidiaries ITCTransmission, Michigan Electric Transmission Company, ITC Midwest and ITC Great Plains, ITC owns and operates high-voltage transmission facilities in Michigan, Iowa, Minnesota, Illinois, Missouri, Kansas and Oklahoma, serving a combined peak load exceeding 26,000 megawatts along approximately 15,800 circuit miles of transmission line with 660 employees and nearly 1,000 contractors across its seven-state footprint. ITC's grid development focus includes growth through regulated infrastructure investment as well as domestic and international expansion through merchant and other commercial development opportunities. ITC Holdings Corp. common shares are owned 80.1% by Fortis Inc. and 19.9% by GIC Private Limited. www.itc-holdings.com