Lake Eucha & Spavinaw Creek Demonstration Farm Tour
The Conservation Commission's Water Quality Division and the City of Tulsa's Metropolitan Utility Authority hosted a tour of Lake Eucha and the Spavinaw Project Demonstration Farm. Over 30 people, including local state legislators, attended the April 27 tour that originated at Tulsa's Mohawk Water Treatment Plant. Speakers included OCC's Mike Thralls, Dan Butler, Cheryl Cheadle and Joe Schneider. Lou Reynolds, chairman of the Tulsa Metropolitan Utility Authority, spoke, as did City of Tulsa employees Ray West, Mary Coley and Harry Chichester.The legislators present were state. Reps. Pam Peterson, Weldon Watson and John Auffet. Auffet was previously a OCC/WQ employee.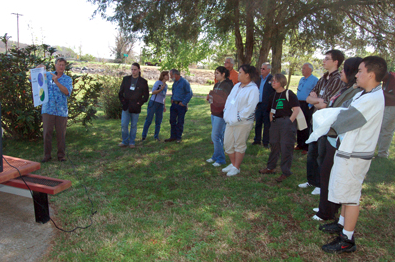 Lake Eucha serves as the primary source for Tulsa's drinking water supply. In recent years the increase of phosphorus levels in the lake had threaten the quality of the drinking water and increased the cost of treatment. A cost-share and demonstration program in Beaty Creek, a subwatershed of Lake Eucha, has shown significant, measurable improvements in water quality and the reduction of phosphorus through installation of best management practices (BMPs). That project was funded in a grant under Section 319 of the federal Clean Water Act, administered by the U.S. Environmental Protection Agency, and a match of state funds.
A similar grant has allowed the implementation of a Spavinaw Creek Watershed Demonstration Farm where a number of BMPs are installed for the education of area landowners and producers. Those practices include riparian fencing to keep livestock away from streams, alternative watering and feeding facilities, cross fencing for rotational grazing and a "Newbury riffle" stream crossing that does not disrupt stream ecology.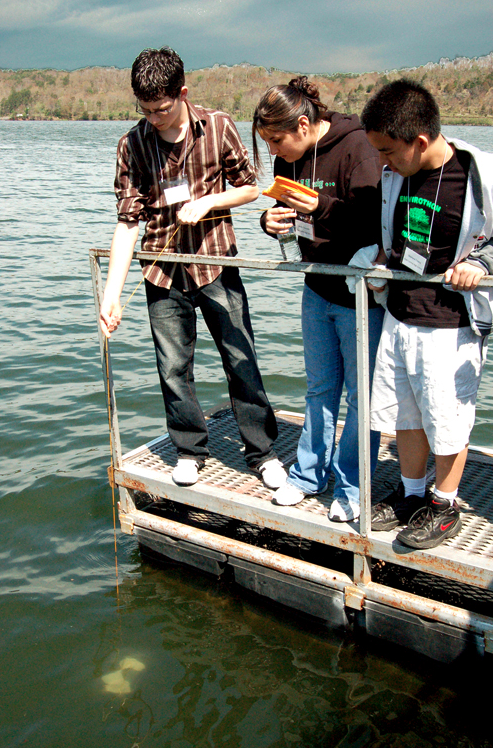 Earlier in the week of the tour, an agreement was signed at the state Capitol between the U.S. Department of Agriculture and the state of Oklahoma for a Conservation Reserve Enhancement Program (CREP) in the state. The $20.6 million CREP agreement signed by Gov. Brad Henry and U.S. Deputy Sec. of Agriculture Chuck Conner on April 23 enables project to filter runoff, stabilize stream banks, shade stream channels, and improve drinking water and aquatic habitat by creating 500 acres of filter strips and 8,500 acres of riparian buffers, for a total of 9,000 acres, or 370 miles, of protected streams.The conservation plantings will reduce the flow of nutrients, sediment and other pollutants in the Spavinaw Lake and Illinois River/Lake Tenkiller watersheds.
The Oklahoma CREP includes parts of Adair, Cherokee, Delaware, Mayes and Sequoyah Counties and includes participation by the conservation districts in those counties. Key CREP partners also include the Oklahoma Conservation Commission (OCC), City of Tulsa's Metropolitan Utility Authority, Oklahoma Scenic Rivers Commission, the USDA Farm Service Agency (FSA) and USDA Natural Resources Conservation Service (NRCS).
Land owners participating in the program will receive annual rental payments, financial and technical assistance and other incentives for voluntarily enrolling land into contracts. FSA will administer Oklahoma CREP, with support from state CREP partners. Eligible landowners will receive a one-time Practice Incentive Payment and a one-time Signing Incentive Payment. In addition, federal dollars will pay 50 percent of the reimbursable costs of establishing eligible practices, conducting compliance reviews, and providing technical assistance and other services up to $16.5 million for Oklahoma CREP.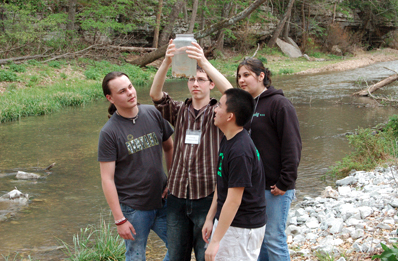 OCC is the state agency that will oversee implementation of the program. OCC, collaborating with local conservation districts, will identify eligible producers with appropriate land for enrollment in the program. The state will provide payments to participants and pay a minimum of 20 percent of the overall costs of the Oklahoma CREP, including payments for fencing and related costs for non-Conservation Reserve Program (CRP) acreage. OCC will also provide staffing for the project, and coordinate with other natural resource conservation programs at the local, state and federal levels. The state will provide $4.1 million in cash and in-kind services for Oklahoma CREP.