Kay County Conservation District's Eco Trail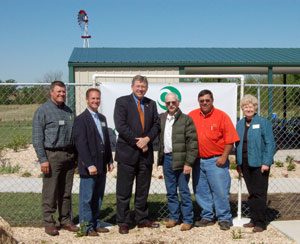 Kay County Conservation District held a grand opening event on April 28, 2011, for its new outdoor classroom, the Kay County Eco Trail. Congressman Frank Lucas was the keynote speaker. In his remarks, chair of the U.S. House Agriculture Committee stated that 23 of the 46 committee members are freshman Representatives. And an equal number of members were not connected with agriculture. He commended the Eco Trail as an important part of the ongoing process of educating and reminding the public about nature and where our food and other necessary products come from. About 50 people attended the event, including representatives from the Oklahoma Conservation Commission and USDA Natural Resources Conservation Service.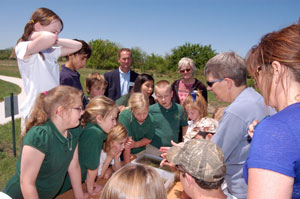 In the afternoon 125 local third- and fourth-grade students rotated through natural resource stations presented by OCC's Blue Thumb Program, the state Department of Wildlife and the NCRS soil science program. They tasted samples cooked on site by the world's second-place dutch oven cooking champion, Curtis Grace. Wade Warren, Noble County Conservation District, used the OSU stream table to demonstrate principles of flooding and soil erosion for students.
The site features both in-ground and raised-bed gardens with a focus on butterflies, hummingbirds and vegetables. The site also has a covered meeting facility with electrical power and a storage room.
The Kay County Eco Trail outdoor classroom was funded through the Oklahoma Recreational Trails federal transportation grant program along with funding from the U.S. Fish and Wildlife Service and local sponsors.