Janet Stewart named to Oklahoma Ag Leadership Program
Janet Stewart, OCC general counsel, has been named as a member of Class XVI of the Oklahoma Ag Leadership Program (OALP). Stewart started working for the state in 1998 with the Oklahoma Department of Agriculture, Food and Forestry, and joined OCC in 2007, working in the Conservation Programs division.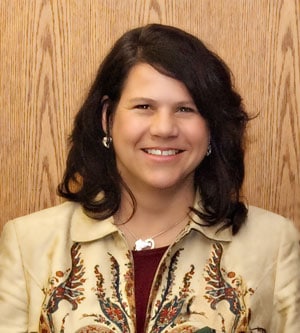 OALP is a two-year work-study leadership development program that was established in the early 1980s to further develop future leaders for Oklahoma agriculture. During the two-year program, a number of two- to three-day seminars make up the backbone of the curriculum. Areas to be studied include leadership development; communication; government operations and institutions; economics, resource allocation, marketing and finance problems in agriculture; sociology; and religious and cultural studies. The class will also study major issues that affect Oklahoma and U.S. agriculture. Those issues include the political process, international trade, water and energy. Seminars will be held in Stillwater, Oklahoma City and other key locations across the state to further help the class members understand all of the many aspects of agriculture in the state.
Year one of the program concludes with a National Work Study Experience in Washington, D.C., and nearby areas to enhance the understanding by the class of the political process at the national level. The capstone experience of the program comes at the end of year two, with an international travel experience that is unique to that class to offer them an international perspective of how Oklahoma agriculture fits into the global marketplace. Previous classes have traveled to Asia, Europe, Australia, the Americas and Africa to stretch their understanding of agriculture and the challenge of feeding a growing worldwide population. The first seminar in the two-year program for the new group will be in Stillwater in August. The class will conclude its OALP experience in the spring of 2014.
Also named to the OALP Class XVI was Dianne Jeans, member and past president of the Oklahoma Association of Conservation Districts (OACD) Auxiliary and National Association of Conservation Districts (NACD) South Central Region Auxiliary and wife of Rick Jeans, Kay County Conservation District director and past OACD president. Steve Alspach, soil scientist with the USDA Natural Resources Conservation Service state office in Stillwater, was also named to the OALP Class XVI.