Illinois River Streambank Stabilization Tour September 2012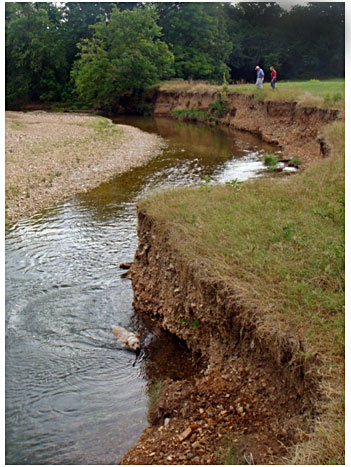 One Conservation Commission member and several Oklahoma Conservation Commission staff participated in a streambank stabilization field day in Cherokee and Adair counties on Sept. 12, 2012. The field day was organized by Oklahoma State University's Department of Biosystems and Agricultural Engineering to educate people about the benefits of using bioengineering techniques to repair eroding stream banks.
OCC and OSU teamed up on a $2 million American Recovery and Reinvestment Act loan from the Oklahoma Water Resources Board. The money was used to repair and improve 11 sites in the Illinois River watershed and to identify additional sites for repair in both the Illinois River and Eucha/Spavinaw watersheds. The 11 sites that were repaired were located along Town Branch Creek that runs through the city of Tahlequah, Barron Fork Creek, Tyner Creek and the Illinois River. Each of the selected sites had significant erosion problems and in some instances infrastructure was threatened.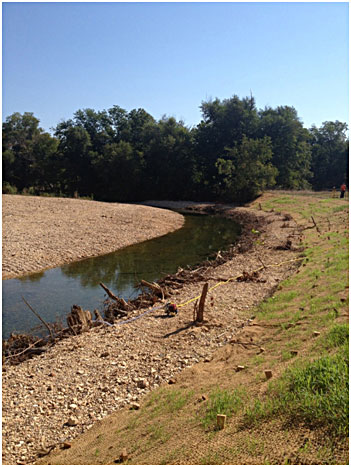 Participants toured five completed sites and one site under active construction. At each of the sites Dr. Greg Jennings of Jennings Environmental and Darrell Westmoreland with North State Environmental discussed the various techniques used to repair the stream. Jennings was involved with the design of the projects and Westmoreland's company performed all the construction work. Some of the techniques used include installation of "log j-hooks," "cross vanes" and "woody brush toes." In addition, vertical banks were sloped and the channel deepened and/or moved. Vegetation plays an important role in ensuring these methods succeed and native grasses, wildflowers and trees will be planted to help improve the stability of the bank and the riparian area to help further limit pollutant loading in the streams. All of these techniques work to take pressure off the eroding bank and improve both aquatic and terrestrial habitat while reducing the amount of sediment going into the streams. In essence these work to restore the stream to a more natural state so it is able to maintain its natural balance.
George Stunkard, Area III Conservation Commission member; and OCC staff Ben Pollard, assistant director; Shanon Phillips, Water Quality director; Jim Leach, WQ Cost Share and Finance director; and Gina Levesque WQ CREP coordinator; attended the field day.