Hughes County Conservation District 2012 Scholarship
Submitted by Andrea Jones, Hughes County Conservation District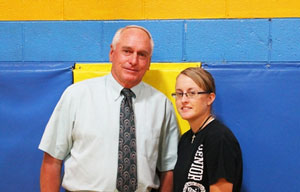 As tuition costs continue to rise, students and parents appreciate any funding sources to help offset the cost of higher education. Finding and securing scholarships can be a daunting task with so many students applying for the limited scholarships available.
The Hughes County Conservation District (HCCD) recently made available a $1,000 scholarship to one graduating senior from a Hughes County school who met certain minimum requirements. Those requirements included:
Meet all the requirements for graduation.
Present evidence of some financial need.
Present evidence of participation in school and community activities.
Demonstrate high standards, drive, determination, and a strong work ethic.
Must have participated in at least one HCCD activity including poster, essay, speech or land judging contests, Earth Team volunteer program, outdoor classrooms, or Blue Thumb Stream monitoring or stream macroinvertebrate (bug) collections.
HCCD reviewed the applications received and awarded the $1,000 scholarship to Jacie Brown of Moss Public Schools. Ms. Brown had participated in the district's Blue Thumb program for two and a half years, including stream monitoring and macroinvertebrate collections. She also participated in poster contests, land judging contests and assisted with the outdoor classroom events at both Thomas Elementary and Moss Schools. She received a glowing recommendation from her Science Teacher regarding her Blue Thumb activities.
Dale Jenkins, HCCD vice chairman, presented the scholarship to Brown during the Moss Schools awards program on May 17.