House Passes Conservation Bond Legislation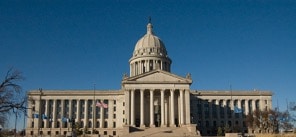 NEW: The Senate Passed the Conservation Bond bill 44-2 on April 20. SB 238 is now on its way to the Governor!
Conservation Bond Reauthorized by Oklahoma House of Representatives. Bond issue now awaits Senate approval.
April 9, 2009, Oklahoma City
The State of Oklahoma is one step closer to repairing the damage caused by the record floods of 2007 with the reauthorization of the $25 million Conservation bond today by the Oklahoma House of Representatives according to Trey Lam, President of the Oklahoma Association of Conservation Districts. The measure passed the House by a vote of 79 to 12 on Thursday, April 9.
"The reauthorization of the Conservation Bond by the Oklahoma House of Representatives gets us closer to really being able to repair the damage our state has seen these last few years from record flooding." Lam Said "We are very appreciative of the leadership the State of Oklahoma is showing in getting these funds on the ground to make sure the property and lives of our citizens are protected."
In 2007, record flooding resulted in damage to flood control structures throughout the state, including two dams in Caddo County that suffered near breaches. In addition, millions of dollars of damage was done to additional conservation infrastructure state-wide. The bond issue reauthorized today by the Oklahoma House was originally passed last session to start the process of repairing this damage. After its initial passage the bond, which was included in a larger measure with additional funding for non-conservation projects in Oklahoma City and Tulsa, was struck down by the Oklahoma Supreme Court. The version passed by the Oklahoma House today was written to address the concerns the court expressed in its ruling.
"In the closing days of the 2008 legislative session, the House, Senate and the Governor came together in a bi-partisan manner to do the right thing and pass a bond issue to help repair the catastrophic damage our state suffered," Lam said. "Unfortunately the Court struck that package down. Now, with this new version, we should be able to make it across the finish line."
According to Clay Pope, Executive Director of the Oklahoma Association of Conservation Districts, this trip across the finish line comes just in time to match new Federal dollars being generated by the recently passed American Recovery and Reinvestment Act, better known as the Stimulus Plan.
"Oklahoma is in line to receive over $14 million for flood control dam rehabilitation from the recently passed stimulus plan," Pope Said. "To get these funds, however, we need state match. This bond will provide the funding we need to insure that these dollars come to our state to help us repair this damage to our flood control infrastructure. With the help of our Federal Partners at the USDA Natural Resources Conservation Service (NRCS) and the Oklahoma Conservation Commission, our local Conservation Districts will have the resources they need to start the repair work. We are extremely happy that the House took this action today and we look forward to working with the Senate and the Governor's office to see that this act becomes law."