Honey Creek — Upstream Neighbors Impressed with Conservation Practices
Board members from a regional citizens group, the Grand Lake Watershed Alliance Foundation (GLWAF), toured the Oklahoma Conservation Commission's Honey Creek Demonstration Farm, a cattle operation in Delaware County, on April 14. The group is comprised of members from Kansas, Arkansas, Missouri, and Oklahoma because the land draining toward Grand Lake is from these states — about 90 percent outside Oklahoma. One purpose of the foundation is to facilitate use of conservation practices to improve water quality throughout the Grand Lake Watershed.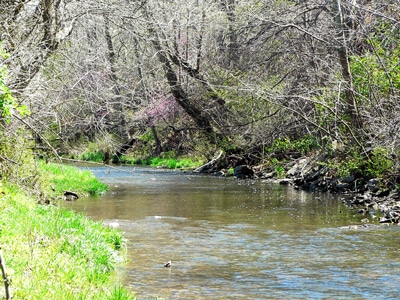 The board members were impressed with the conservation practices adopted on the farm and with reports of water quality improvements in Beaty Creek, a nearby stream. Widespread voluntary adoption of similar practices in Beaty Creek have resulted in reductions in bacteria and a 66 percent reduction of phosphorus — pollutants that also threaten Grand Lake. The board members believe implementing the practices highlighted at the Honey Creek Demonstration Farm on a broader scale throughout the Grand Lake Watershed will help achieve that goal.
"I would like to share this information with the upstream folks to show what a great job you are doing in Oklahoma," Dr. James Triplett, a board member from Kansas, said. As chair of the Neosho Basin Advisory Committee, Dr. Triplett has distributed handouts from the tour to others in Kansas and plans to share his impressions at the next committee meeting.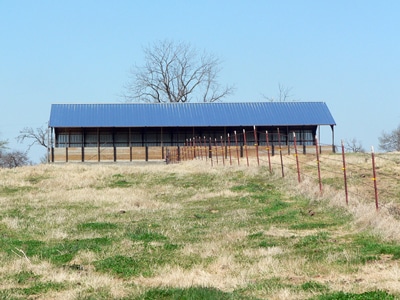 "This is a voluntary effort. I want to commend the landowners for stepping forward to protect our land and water resources," said John Gillette, GLWAF president.
The Honey Creek Demonstration Farm was established about 15 miles east of Grove by the Oklahoma Conservation Commission, in cooperation with the Delaware County Conservation District, to showcase management practices such as cross-fencing, heavy use areas, feeding and waste storage facilities, and partial exclusion from areas along streams with alternative watering sites.
Farm tours allow potential participants and others to see how these practices benefit the environment while improving the producer's profitability. The Conservation Commission and local conservation district offices cost share with producers in certain watersheds, including Honey Creek, to improve their cattle operations and reduce their impact on the environment.
"The more producers who participate, the better results for local water resources," said Marti Mefford, Honey Creek Project coordinator.