Grazinglands Workshop – Dewey County Conservation District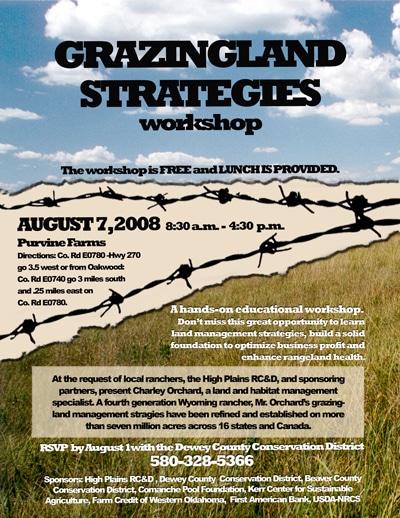 At the request of local ranchers, the High Plains Resource Conservation and Development Council and sponsoring partners, will present Charley Orchard, a land and habitat management specialist. "Grazinglands Strategies," a workshop, will be held Aug. 7, 2008, at Purvine Farms near Oakwood, Okla. A fourth-generation Wyoming rancher, Orchard's grazingland management strategies have been refined and established on more than 7,000,000 acres across 16 states and Canada. The workshop is free and lunch will be provided.
Sponsors are the Dewey County Conservation District, High Plains RC&D, Comanche Pool Foundation, Kerr Center for Sustainable Agriculture, Farm Credit of Western Oklahoma First American Bank and the USDA Natural Resources Conservation Service.
To register, contact the Dewey County Conservation District, 580-328-5366, by Aug. 1. Click here for more information.