Grant County Conservation District Honors Sec. of Ag Jim Reese
Retiring district secretary Judy Ediger was also honored
Oklahoma Sec. of Agriculture Jim Reese received a Governor's Conservation Award at Grant County Conservation District's Annual Awards Banquet on April 3, 2012. Mike Thralls, Oklahoma Conservation Commission executive director, presented the award on behalf of Gov. Mary Fallin. The Governor's Conservation Award is presented on behalf of the Governor upon recommendation of a conservation district board to those who have exhibited high standards of conduct, leadership, innovation or outstanding service to conservation programs in Oklahoma.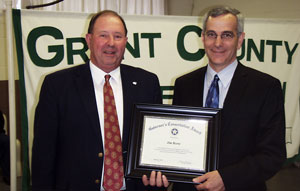 Born and raised on a wheat and dairy farm north of Nardin, on the Kay and Grant County line, Reese worked the fields and milked cows with his parents and siblings. After high school he first attended Northern Oklahoma College and then Oklahoma State University where he received a bachelor's degree in Engineering Technology. He started his own farming operation in 1976, raising wheat, soybeans, sesame and grain sorghum. He built his own terraces and waterways using a plow and earth mover.
Reese was elected to the state House of Representatives in 1986 and served 15 years. He was then selected by the George W. Bush Administration to serve as state executive director for the Farm Service Agency in Oklahoma for eight years. He served as policy advisor for Speaker of the House Chris Benge. Gov. Mary Fallin appointed Reese as state Sec. of Agriculture where he has served since January 2011. The Sec. of Agriculture is responsible for both promoting and regulating agriculture in Oklahoma.
During his time at the Farm Service Agency Reese helped initiate Oklahoma's first Conservation Reserve Enhancement Program project. CREP project in the Eucha/Spavinaw and Illinois River watershed is a $20.6 million program with the goal ofd enrolling 9,000 acres of riparian area into long-term protection contracts. Since its inception more than 2,300 acres have been enrolled in the program, filtering runoff from more than 30,000 acres and reducing nutrient and sediment loading to the Illinois River and Eucha/Spavinaw by more than 45,000 pounds of nitrogen, 3,700 pounds of phosphorus and 372 tons of sediment. That is the equivalent of 15 semi-truck loads of topsoil.
Jim and his wife Margaret continue to live and work on the farm near Nardin where they raised four children.
Judy Ediger, District Secretary, Honored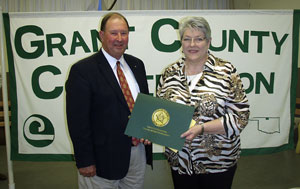 Judy Ediger, retiring with more than six years of service as secretary at Grant County Conservation District, and having previously served more than 11 years in that position at Kiamichi Conservation District, received a Conservation Commendation from OCC. Mike Thralls, OCC executive director, presented the commendation for "eighteen years of service to conservation in the state of Oklahoma."