Grady County Conservation District Honors Ralph Morgan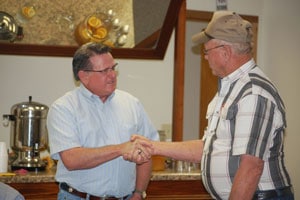 After 30 years of service on the Grady County Conservation District board, Ralph Morgan decided not to seek reappointment for his term expiring June 30. The district held a surprise reception for him on May 31, 2011.
State Sens. Ron Justice and Don Barrington and Reps. Joe Dorman and Leslie Osborn presented Morgan with Legislative Citations. Mike Thralls, OCC executive director, presented him with a Conservation Commendation from OCC. The district presented Morgan with an inscribed wall clock.
Morgan owns and operates Morgan Cattle Company south of Chickasha. He has been a district cooperator since 1975 and joined the board of directors in 1980.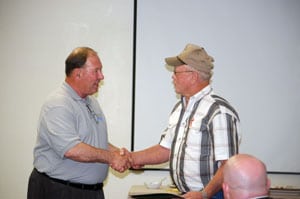 He is credited with initiating many of the programs in which the district is now involved. He hosted the first lagoon pumpout demonstration for applying animal waste  in a nutrient management system. He was the first landowner in Grady County to purchase and use a no-till drill and provide no-till operation demonstration. Morgan was instrumental in providing a service to eradicate eastern redcedar, an invasive plant species that has become an increasing problem in Grady County as well as elsewhere. He was awarded the National Cattlemen's Beef Association Environmental Stewardship Award in 2001.