Governor Signs Conservation Bond Legislation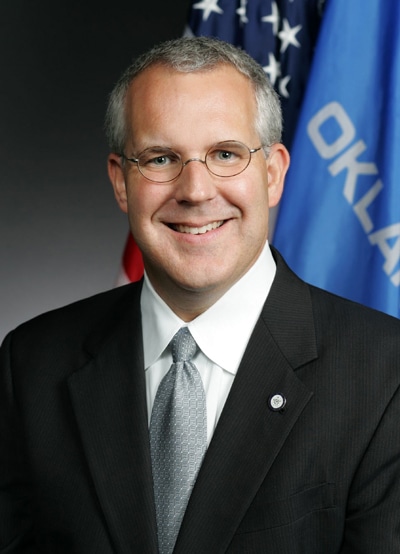 April 28, 2009, Oklahoma City — Gov. Brad Henry signed Senate Bill 238 into law on Monday, April 27, 2009, at the state Capitol. SB 238 authorizes the issue of a bond for $25 million to help conservation in Oklahoma. The House passed the bill by a vote of 79 to 12 on April 9 and the Senate passed it 44-2 on April 20.
Part of the money —$8,800,000 — will be used to provide the state's required 35 percent match for the federal construction funds for small watershed upstream flood control dam rehabilitation. On April 6 U.S. Sec. of Agriculture Tom Vilsack announced just over $14 million of federal funds is coming to Oklahoma for dam rehabilitation under the American Recovery and Reinvestment Act of 2009. Part of the $8.8 million will make up the state's 35 percent cost match on about $12 million in construction costs in that program. Another $7.1 million from the bond will go for much-needed operation and maintenance on existing dams in the state. Other funding planned from the bond include $2.1 million for the state's locally-led Cost-Share Program; $3 million for state cost match for the federal Conservation Reserve Enhancement Program; and $4 million for a flood control project in Kingfisher County.
In 2007 record flooding resulted in damage to flood control structures throughout the state, including two dams in Caddo County that suffered near breaches. In addition, millions of dollars of damage was done to additional conservation infrastructure state-wide. The Sugar Creek Dams L-44 and L-43 in Caddo County are slated for rehabilitation in the ARRA projects and bond money will provide the state portion of the cost.
The bond issue reauthorized Monday by the Gov. Henry was originally passed in the 2008 legislative session to start the process of repairing the 2007 damage. After its initial passage the bond, which was included in a larger measure with additional funding for non-conservation projects in Oklahoma City and Tulsa, was struck down by the Oklahoma Supreme Court. The version signed by the Governor on Monday was written to address the concerns the court expressed in its ruling.
"I think the support shown all the way through the legislative process for the conservation projects to be funded by this bond reflects the understanding that the Governor, Senate and House of Representatives have for the value of conservation in the state of Oklahoma," said Mike Thralls, executive director of the Oklahoma Conservation Commission. "The House and Senate each passed this bill by an overwhelming majority and Governor Henry signed it within a week of it being presented to him. I think that reflects well the job done by the state's conservation districts in communicating and educating our elected leaders about how vital the flood control programs and other conservation projects are to the well being of the state of Oklahoma," Thralls said.