Governor Henry and Secretary of Agriculture Peach Visit Cimarron County
by Kiley Whited, NRCS Rangeland Management Specialist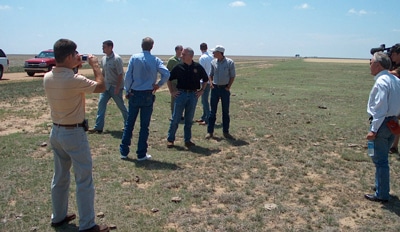 Gov. Brad Henry and Sec. of Agriculture Terry Peach visited Boise City on July 16 to survey the drought conditions and discuss issues with concerned residents. After landing at the Boise City airport around noon the Governor's party proceeded downtown to tour businesses and visit the local newspaper. Gov. Henry met with Cimarron County citizens outside the courthouse, where he listened to and addressed the concerns of the crowd. There, local NRCS District Conservationist Cherrie Brown and Cimarron County Conservation District Programs Coordinator Iris Imler greeted the Governor and Secretary and expressed their appreciation for the visit and for the Governor's assistance in conservation efforts statewide. The Governor reciprocated gratitude for the conservation work that the federal and local partnership has accomplished in the county.
Next the Governor's party met with a small group of local agricultural producers, business owners and county and federal conservationists at a county barn. Gov. Henry and Sec. Peach fielded questions ranging from direct emergency relief for producers and businesses to the state's role in helping local landowners generate income through nontraditional means.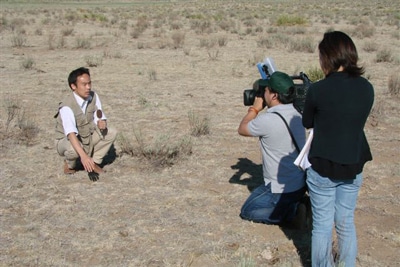 Gov. Henry explained that if the federal disaster status was approved, impacted producers would be eligible for low interest loans to relieve economic hardships. The concerns of local business owners seeking aid to ease the economic downturn caused by producers' troubles rippling through the community were also discussed. The Governor expressed doubt that Small Business Administration loans would be available, but that aid to farmers and ranchers should translate into help for businesses indirectly.
Livestock production issues focused mainly on School Land Trust grazing leases and recent notice to some lease holders that they must remove cattle because of lack of forage and poor range conditions. Gov. Henry and Sec. Peach expressed their regret that it was impossible by law to forgive lease payments owed to the state. Sec. Peach did, however, suggest that due to these circumstances he would consider working out a compromise in which lease holders might be eligible for free or reduced grazing privileges in future seasons if livestock owners formally submitted requests to his office.
Livestock owners also expressed their concern about the ongoing litigation involving critical grazing of federal Conservation Reserve Program (CRP) land. Both Gov. Henry and Sec. Peach reiterated the state's position in supporting Oklahoma ranchers' option to responsibly use these lands, as the extreme drought and high price of forages have left few other options and thus jeopardized the survival of many livestock operations in the county. Sec. Peach assured the group of the Governor's commitment to this issue, noting Oklahoma had as yet been the only state to formally challenge the ruling to halt critical grazing of CRP. (Editor's note: A federal judge in Seattle ruled July 24 that ranchers who had prepared to use CRP land for haying and grazing could do so for a limited time.)
The Governor was also asked about aid beyond immediate disaster assistance. Specifically, how his administration is addressing possibilities of a less predictable climate and decreasing water supply due to groundwater overuse, causing producers to seek less traditional sources of income from their land. In response, Gov. Henry outlined the state's support for development of transmission lines for electricity generated by wind power on land leased from local producers in the Panhandle. He said his administration also supports development of technology to convert alternative, less input-intensive crops, such as native prairie grasses, to usable fuel. Although still in development, once it is in use the process could provide a market for a potentially more profitable and sustainable crop than what has been traditionally grown in Cimarron County.
After discussion at the county barn, the Governor's party drove northeast of Boise City to observe the devastation to crops and native range. The party then left the Boise City area to survey conditions en route to Guymon where they returned by air to the Capitol.