Governor Fallin Appoints Shanon Phillips to Arkansas-Oklahoma Committee on Water Quality
Governor Fallin has appointed Conservation Commission Water Quality Division Director Shanon Phillips as one of three members representing the State of Oklahoma on a joint committee with Arkansas to review the phosphorus water quality standard for the Illinois River.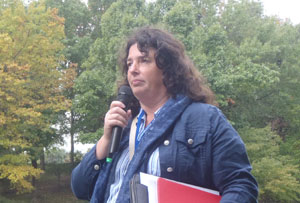 The six-member committee, whose members are divided equally between Oklahoma and Arkansas, is tasked with designing a study and selecting and advising independent researchers to determine the critical nutrient concentrations that lead to excessive algal growth in the Illinois River.
"The nutrient concentrations that cause a noticeable increase in algae growth are critical in normal rivers also, but by law scenic rivers have extra protection to preserve their high quality and unique characteristics," said Phillips. "The goal is to implement a standard in these systems that may result in essentially no noticeable algal growth."
"The appointment of Shanon Phillips to this committee by Governor Fallin recognizes the important work Shanon and the Commission's Water Quality Division have been doing in the Illinois River watershed for the past 25 years," said Mike Thralls, executive director of the Oklahoma Conservation Commission. "Shanon brings excellent technical credentials to the committee. I commend the governor for selecting Shanon."
Oklahoma's current phosphorous standard for its six scenic rivers is 0.037 mg/L but levels are often found to be in the range of 0.005 – 1.45 mg/L or higher in segments of the Illinois River. Sources of phosphorous in freshwater include runoff from urban development, agricultural operations, soil and streambank erosion, and wastewater and industrial discharges.

The committee plans to use the results of the study to further investigate whether the current standard is an appropriate number to protect the scenic rivers from excessive algae growth.
The other Oklahoma members appointed by Governor Fallin are Derek Smithee, chief of water quality at the Oklahoma Water Resources Board, and Shellie Chard-McClary, director of water quality at the Oklahoma Department of Environmental Quality.