GIS Day at the Capitol 2007
Oklahoma Celebrates GIS Day at the Capitol
Come See Your World. . . Through Ours
The State Geographic Information Council hosted GIS Day at the Capitol on Wednesday, March 14, 2007. Over 30 local, state, and federal agencies participated in the day-long event that offered an opportunity to put geographic information system (GIS) technology on center stage for elected officials and visitors at the State Capitol in Oklahoma City. The annual event, now in its 13th year, celebrates the innovative technology that uses geography to bring countless benefits to the state of Oklahoma. GIS Day at the Capitol provides an opportunity for those curious about GIS to see the important contributions it is making in the fields of science, technology, information, and the humanities. The event was held in the Fourth Floor Rotunda from 9:00 a.m. until 3:00 p.m.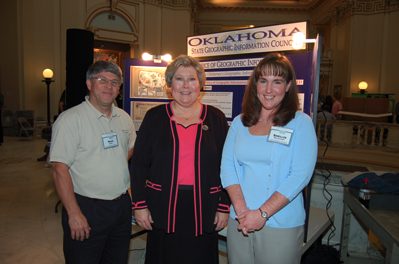 GIS is a computer-based mapping tool that takes database information about a location, including streets, buildings, water features, and terrain, and turns it into visual layers. The ability to see and analyze geographic features on a map gives users a better understanding of a particular location, enabling planners, analysts, and others to make informed decisions about their communities, the environment, and businesses.
Although many may not be aware of it, GIS touches our lives daily. It is used throughout the world to solve problems related to the environment, health care, land use, business efficiency, education, and public safety. The power supply directed to homes, the patrol cars and fire trucks that keep neighborhoods safe, and the delivery trucks on the road all function more efficiently because of GIS. The technology can also help businesses place ATMs and restaurants at more convenient locations, allow people to pull maps off the Internet, and help farmers grow more crops with less chemicals.
GIS technology was used to aid Homeland Security initiatives, map the debris field following the Space Shuttle Columbia tragedy, and monitor the spread of Severe Acute Respiratory Syndrome (SARS). The applications of GIS technology are endless, limited only by the imagination of its users. From border patrol agents to doctors, and from federal agency employees to local city planners, people in nearly every profession all over the state are reaping the benefits of this extraordinary technology.
"Any of the earth's natural or manmade features can be viewed with a GIS," said Mike Thralls, executive director of the Oklahoma Conservation Commission and chair of the State Geographic Information Council. "One of the best features of GIS is that it enables us to see data on a map compared to seeing the same data in a table. It's much easier to draw conclusions and make decisions from a map than a table," Thralls said.
The Conservation Commission's Information Technology (IT) division plays an important role in the event each year. Mike Sharp, IT director, guided Lt. Governor Jari Askins on a tour of the displays. Shellie Willoughby, GIS specialist for the IT division, coordinates the event each year.