George Stunkard, Area III Commission member, honored
George Stunkard, attended his final meeting as a member of the Oklahoma Conservation Commission on June 3, 2013. As Area III Commission member, he represented 16 conservation districts in northeast Oklahoma. First appointed by Gov. Brad Henry in 2003 and reappointed by Gov. Henry in 2008, he served two consecutive five-year terms, ending June 30, 2013.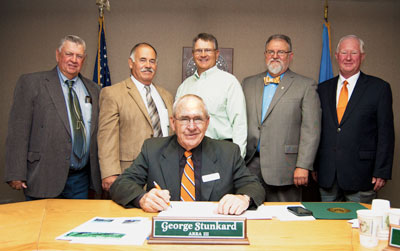 With a Bachelor of Science degree in animal husbandry from Oklahoma State University, Stunkard and his wife Phyllis own and operate a farming and ranching operation in Wagoner County. He has been active in agriculture all of his adult life, farming row crops and small grains and running a cow/calf operation in the Kadashan Bottom southwest of Coweta. In addition, since 1999 he has held the position of operations manager of the Sanders Nursery and Distribution Center near Coweta. George and Phyllis Stunkard have one son, two daughters and five grandsons. They are members of the First United Methodist Church of Coweta.
Stunkard has served on the Wagoner County Conservation District board of directors for more than 40 years. He became a cooperator with the Wagoner County Conservation District in 1969. In 1972 he was elected to serve on the board of directors of the conservation district. He moved from an elected position to an appointed position on that board in 1996 and is currently board chairman.
Stunkard was instrumental in the Public Law 566 Kadashan Bottom Upstream Flood Control Project in Wagoner County. He provided an easement to allow one dam to be constructed on his land and helped gain the support of other landowners for five more flood control dams in the 6,000-acre drainage area.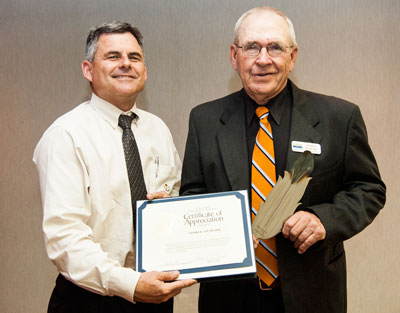 In 1990 Stunkard was serving as vice president of the Oklahoma Association of Conservation Districts (OACD) when then-president of the association J. Berry Harrison of Fairfax resigned for a successful bid for the District 10 state Senate seat. Stunkard fulfilled the remainder of Harrison's term, then was elected to two more one-year terms as OACD president, serving from 1990 to 1992. He had served as OACD Area III director prior to becoming vice president. From 1995 to 2000 he served as director of the NACD Presidents Association, whose members are current or former presidents of state conservation associations.
Approximately 50 people attended the luncheon on June 3 to honor Stunkard, accompanied by his wife Phyllis, including the four other Conservation Commission members, current and former employees of OCC and conservation districts and the state conservationist for the USDA Natural Resources Conservation Service.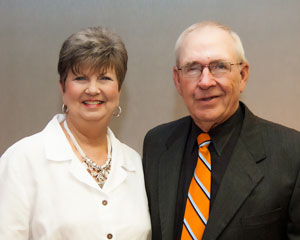 At the luncheon Stunkard was presented with a Governor's Commendation from Gov. Mary Fallin that read: "In appreciation of your more than 40 years of service to Oklahoma on the Wagoner County Conservation District board of directors, including two five-year terms representing northeast Oklahoma as Area III member of the Oklahoma Conservation Commission and two years as president of the Oklahoma Association of Conservation Districts. Your dedication and leadership at local, state and national levels has helped further the cause of natural resource conservation in Oklahoma and the nation."
Gary O'Neill, NRCS state conservationist, presented George with a USDA Certicate of Appreciation, that stated "Thank you for your 41 years of dedicated service to Conservation in Oklahoma. Your commitment and leadership at the local, state and national levels has been invaluable in helping the Natural Resources Conservation Service achieve its mission of 'Helping People Help the Land.' Your contribution and service will long be remembered."
Stunkard was inducted into the Oklahoma Conservation Hall of Fame in 1998, was named Conservation District Director of the Year at Conservation Day at the Tulsa State Fair in 1988 and Agriculturist of the Year by the Muskogee Area Chamber of Commerce in 1987, and his district received the Goodyear Conservation Award in 1996.