Garfield County CD & OACD say "thanks!" to event host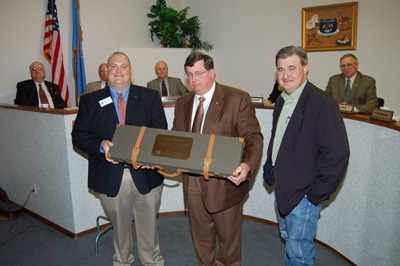 Garfield County Conservation District and the Oklahoma Association of Conservation Districts presented John Groendyke with a Classic Series Fitted Shotgun Case on April 2 in Oklahoma City. The two groups made the presentation at the April meeting of the Oklahoma Wildlife Conservation Commission of which Groendyke is a member.
Jason Skaggs, district manager for the Garfield County Conservation District, and Clay Pope, executive director of the Oklahoma Association of Conservation Districts, represented the two organizations.
The groups presented the deluxe gun case, emblazoned with an engraved brass plate, to Groendyke in appreciation for his hosting a hunting and target shooting at the Groendyke Lodge last year. The Garfield County Conservation District Legislative Bird Hunt on Dec. 4, 2006, provided conservationists and legislators an opportunity to enjoy the outdoors and discuss current and future natural resource issues. In addition to providing the grounds and facilities, Groendyke Hunting Lodge also provided dinner for the guests..