From drought to flood: the Hammon story
HAMMON, Okla. (May 26, 2015)—One town, two droughts, two floods, two very different results.
Straddling the boundaries of Roger Mills and Custer Counties in a river bend where the Washita River joins Big Kiowa Creek, sits the small town of Hammon. During the Dust Bowl, Hammon baked beneath crushing drought. Crops withered and herds dwindled. Poor land management left the soil hard, erodible and, most cruelly, nearly impervious to water.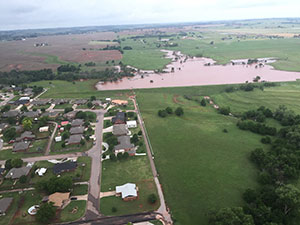 When rain finally came to Hammon in April 1934, the hard ground was ill prepared to accept the 14 inch downpour. When its tributaries flooded, the Washita River swelled two miles beyond its banks. The flood that swept through Hammon stole 17 lives and caused $53 million dollars in damage adjusted to today's dollars. Families, homes, roads, bridges, railroads and crops all suffered.
After four years of drought, spring 2015 has again brought rains to the town of Hammon. The area received 26 inches of rain between April and May—twice that received in the same period in 1934.
"The dams are making the difference," said Nena Wells, Upper Washita Conservation District manager. "We'd likely be underwater if it weren't for them."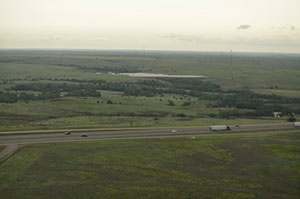 Wells is referring to the 143 flood control dams constructed in Roger Mills County since the 1950s. This network of dams, built along tributary streams of larger rivers, is designed to capture and slow the flow of water as it moves downstream. Compared to zero percent flood control in 1934, the dam network has captured 58 percent of floodwater upstream of Hammon this, according to USDA Natural Resources Conservation Service (NRCS) Water Resource Office estimates. As a result, damage in town was minimal.
During Memorial Day weekend, watershed experts with the Oklahoma Conservation Commission (OCC), the Oklahoma Association of Conservation Districts and the National Watershed Coalition surveyed flood control structures from a helicopter.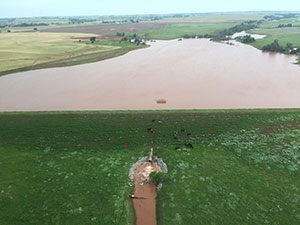 "We are seeing damage—flooded fields, washed out roads, but nothing like the devastation witnessed in the 1934 floods, and certainly much less that what we would see if the dams weren't in place," said Trey Lam, OCC executive director. "Our most important observation is that the dams are functioning as designed."
Continuous investment in dam maintenance by OCC and conservation districts has kept the structures in peak condition to handle the workload they have been dealt over the last several weeks. To assure the dams' continued safe function in the future, regular maintenance must remain an ongoing priority.