Four-State Forestry on the Grow Conference 2012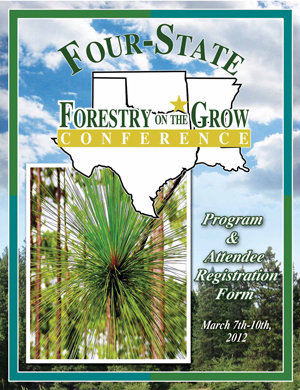 The Ouachita Mountains Resource Conservation and Development Council is hosting the Four-State Forestry on the Grow Conference March 7010, 2012. Formerly called the Tri-State Forestry Conference, topics of interest to timberland owners in Louisiana will now be covered in addition to those in Oklahoma, Arkansas and Texas. For the past 15 years the conference has Wagoner or Idabel and this year returns to the Mary Herron Conference Center at the Museum of the Red River in Idabel. The purpose of the conference is to share information among those currently involved in forest management, industry and investment as well as those considering opportunities in the forestry sector.
Continuing education credits are available for registered foresters and accountants and attorneys for all sessions and pre-conference workshops and tours. Credit hours are equated at one hour credit for one hour of sessions and for two hours of tours.
PRe0registration cost for the conference including the tours is $150 per person, $250 per couple and $100 per student. Registration includes admittance to the main two-day conference sessions on March 9-10, one tour of choice, admittance to exhibit booths, continental breakfasts, lunches, one dinner, evening hospitality and entertainment, and access to leading forestry and timber professionals.
For additional conference information, contact Brandi Hernandez, conference director for Ouachita Mountains RC&D, at 918-423-2479 or bhernandez.rcd@att.net. Also visit http://www.4stateforestryonthegrow.org for more information or to register online.