Farm Bureau Tours North Canadian River Project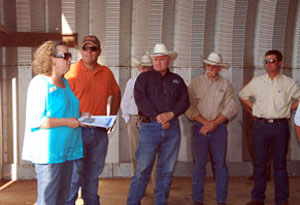 The Oklahoma Farm Bureau (OFB) board of directors toured OCC's North Canadian River Watershed 319 (water quality) Project on the evening of Wednesday, July 18, 2012. Some of the board's family members accompanied them along with several OFB staff members. The Oklahoma Association of Conservation Districts (OACD) and OCC hosted the tour in cooperation with the USDA Natural Resources Conservation Service (NRCS).
The North Canadian River Watershed Project is a voluntary partnership between local farmers and ranchers, conservation districts, OCC, NRCS and the U.S. Environmental Protection Agency (EPA) to address water quality in the project area. Farmers and ranchers install best management practices (BMPs) with cost-share assistance to reduce bacteria, nutrients and turbidity as identified in a 2005 Total Maximum Daily Load Study by the state Department of Environmental Quality. The objective is to demonstrate the efficiency and effectiveness of voluntary efforts to improve water quality by installing practices that reduce nonpoint source water runoff that include those pollutants. Monty Ramming is the project coordinator and Debi Carnott is the education coordinator for the project.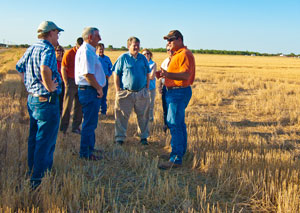 No-till farming, cross fencing and riparian area fencing, and grass planting are among the practices included in the project. Other cost-share components help with providing water for livestock, such as solar pumps and freeze-proof water tanks.
The tour visited the farm of Jeff Brower, a cooperator in the North Canadian Project. His farm serves as a demonstration farm for the project, where he converted from conventional tillage to no-till farming five years earlier. He explained that the damage to his land in 2007 from Tropical Storm Erin was a key factor in motivating him to switch to no-till. He told the group that the change had been extremely successful. Benefits include reduced fuel costs, reduced labor from the time saved by not tilling fields repeatedly and also increased crop production as a result of the improvement in soil health.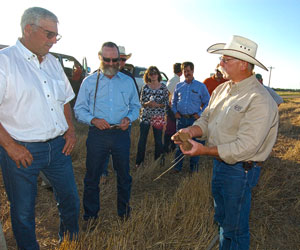 Upon leaving the Brower farm the group traveled to Blaine County to a former school house-turned event center owned by Aaron Base, Central North Canadian River Conservation District director. At that location, Shanon Phillips, OCC Water Quality director, gave a presentation outlining the North Canadian Project. Mike Thralls, OCC executive director, and Clay Pope, OACD executive director, also spoke to the crowd of about 30 people including OCC and NRCS staff and guests. Greg Scott, NRCS state soil scientist, used a rainfall simulator to demonstrate the difference in water absorption and runoff inland with different amounts of ground cover, from bare soil, to moderate stubble, to heavy ground cover.