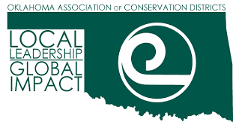 Oklahoma Association of Conservation Districts' 84th Annual State Meeting
Dear Conservation District Directors, Employees, and Partners,
We are incredibly excited to be able to offer the 2022 Oklahoma Association of Conservation Districts State Meeting in person again. The COVID-19 pandemic has changed the way that we interact, partner, and deliver conservation. We are looking forward to providing a forum of discussion for regenerative ag and conservation partnerships.
The 2022 OACD State Meeting sessions have been designed to be more interactive with high level conversations and breakout sessions with practical applicability for your farm and ranch. We've added sessions that are tailored specifically for district employees on both Monday and Tuesday.
As always, we'll have excellent networking opportunities for you to visit with local, state, and national leaders in conservation.
We hope that you will join us in "Sparking the Conversation: Regenerative Ag & Conservation Partnerships" on February 27th, February 28th, and March 1st of 2022.
Thank you,
Bill Jordan, OACD PRESIDENT
Agenda Topics and Guest for the meeting include:
ReView or ReNew: What is Regenerative Ag?
Practical Applications in Regenerative Ag including interspecies grazing and fencing
Unique opportunities for veteran farmers & ranchers
Regenerative Ag Experts from across the country including Dan Kittredge, Ryan Speer, Michael Thompson
Greg Peterson of Peterson Farm Brothers
2022 Legislative Priorities for Conservationists
Inspiring Projects & Ideas for Urban Agriculture with Julian Miller
More information: https://www.okconservation.org/