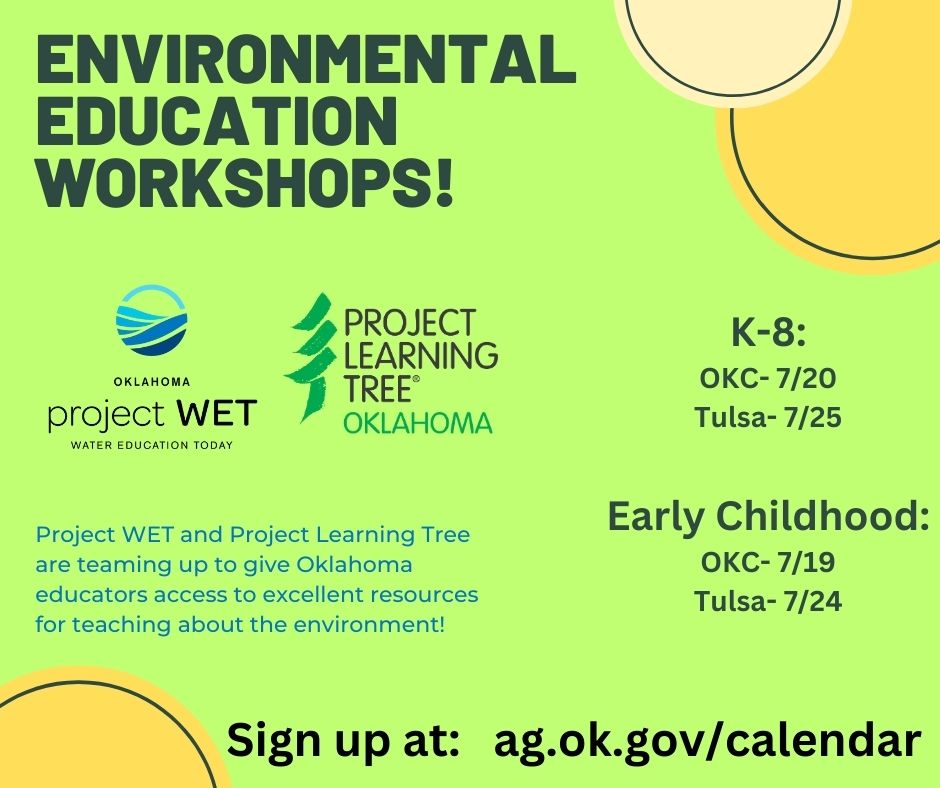 OKC Early Childhood Workshop with Project Learning Tree & Project WET
Workshop featuring Project Learning Tree & Project WET early childhood education curriculum guides.

Join us for a hands-on workshop featuring Project Learning Tree and Project WET early childhood education curriculum guides! Participants will experience activities in a fun and collaborative environment while earning their certification.
About Project Learning Tree: Trees & Me: Activities for Exploring Nature with Young Children includes 12 activities and more than 250 learning experiences for families and teachers to connect children ages 1–6 to nature, with a focus on trees. Through fun, indoor and outdoor activities, toddlers and preschoolers explore nature through their senses, experience trees throughout the seasons, and connect with their community. The hands-on activities are designed for families and caregivers, childcare providers, and early childhood or PreK-Grade 1 educators to use in a range of settings, including preschools, childcare and nature centers, and at home. Special instructions tailor many experiences for children under 3 years of age.
About Project WET: Developed in coordination with early childhood experts and educators, Getting Little Feet Wet is designed to help educators of young children teach about water in fun, age-appropriate ways. This book contains 11 interactive, hands-on activities for young learners to explore different aspects of water—from water properties to water sounds. Each activity offers both Pre-K and K-2 options and is correlated to educational standards.