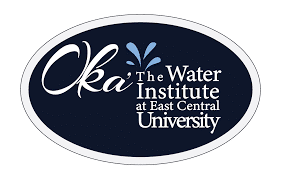 Oka' Institute Sustainability Virtual Conference
Oka' The Water Institute at East Central University
At the Oka' Institute, we recognize water as a critical resource for life as well as being a powerful economic driver. We join with strategic partners for the purpose of safeguarding Oklahoma's water both for our area and our world.
Our Vision
 "To create practical water solutions both locally and globally driven by research and directed by data that result in long-term sustainable ecological management and economic development"
Our Mission
"To address Oklahoma's water resource needs through sustainable water resource management strategies that address real-world demands. This includes a commitment to public and professional education, a recognition of the economic development opportunities and implications of water resources, and to the creation of scientifically defensible and equitable, best practices for water resource management."
Contact: Susan Paddack, Executive Director, spaddack@ecok.edu or (580) 559-5151
Registration: Registration will open August 10th at 9:00 am. Registration link and updates can be found here: https://www.okainstitute.org/2021-sustainability-conference-1
Virtually via Zoom Webinar (link to be sent upon registration)
1 day (Tuesday or Wednesday) Conference registration $50
2 day, full-Conference registration – $90
Speakers at the Sustainability Conference will include Jimmy Emmons, Oklahoma Leopold Conservation Award recipient, OCC Soil Health Mentoring Coordinator, and Trey Lam, Executive Director of the Oklahoma Conservation Commission, and NRCS State Conservationist Gary O'Neill. Jimmy Emmons is scheduled to speak at 1 p.m., Sept. 21; Trey Lam is scheduled to speak at 10:15 a.m., Sept. 22, and Gary O'Neill is scheduled to speak at 2:35 p.m., Sept. 22.
On the first day of the Conference, Sept. 21, the Opening Session is at 9:30 a.m. Day 2 begins at 9 a.m. on Sept. 22.