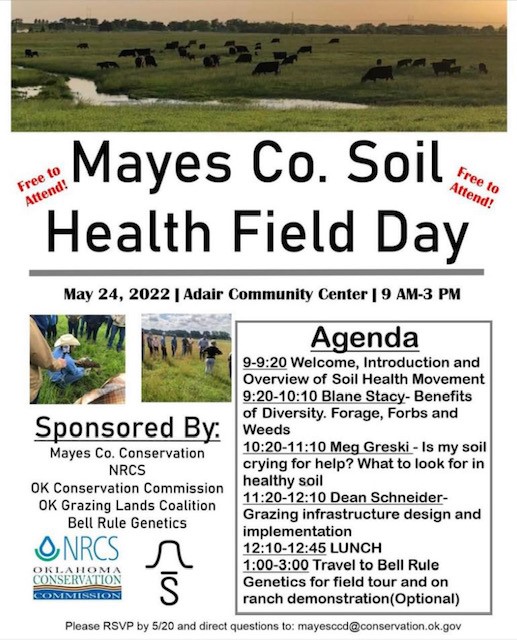 Mayes County Soil Health Field Day
Mayes County Soil Health Field Day
24 May 2022/ 9 AM / Adair Community Center
Agenda
9-9:20 Introduction of Speakers and Overview of the Soil Health movement.
9:20-10:10 Blane Stacy – Benefits of Diversity. Forages, forbs, weeds- do they all have their place in soil health?
10:20-11:10 Meg Greski – Is my soil crying for help? What to look for and how to tell if your soil is active and healthy.
11:20-12:10 Dean Schneider- Grazing infrastructure design and implementation
12:10-12:45 lunch
1:00-3:00 optional on-ranch demonstration and viewing at Bell Rule Genetics
Sponsored by:
Mayes County Conservation District
NRCS
Oklahoma Conservation Commission
Oklahoma Grazing Lands Coalition
Bell Rule Genetics
Please RSVP FOR LUNCH by 5/20 at