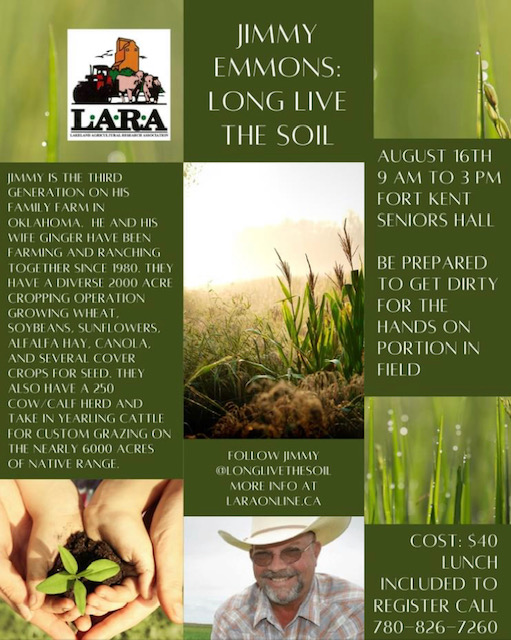 Jimmy Emmons: Long Live the Soil (Featured Speaker in Canada)
Jimmy Emmons began his soil journey 10 years ago, by adding diversity he cut overall farm purchased fertilizer by 85%. Long Live the Soil!
About this event
Join us for a full day of presentations and a hands on session in field. Be prepared to get dirty in the soil pit!
Jimmy is the third generation on his family farm in Oklahoma. He and his wife Ginger have been farming and ranching together since 1980. They have a diverse 2000 acre cropping operation growing wheat, soybeans, sunflowers, alfalfa hay, canola, and several cover crops for seed. They also have a 250 cow/calf herd and take in yearling cattle for custom grazing on the nearly 6000 acres of native range.
Jimmy loves to share his passion for soil and his journey to improved soil health and profits.
Date and time
August 16 2022
8:00 PM – 11:00 PM CENTRAL
Location
Fort Kent
5035 50 St
Fort Kent, AB T0A 1H0
Canada