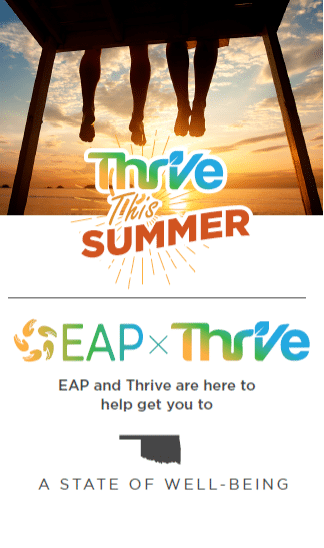 Conservation District Employee Huddle with EAP x Thrive
In lieu of our standard Teams training sessions in August, Thrive and the Employee Assistance Program will be presenting Huddles.  The one-hour gatherings include opportunities for employees to:
Share pandemic frustrations and difficulties in a safe space while connecting with others who are experiencing similar situations.
Learn mindfulness and relaxation techniques to help manage stress.
Gain a deeper understanding of how to boost your resilience and normalcy when disruptions occur or you are feeling physically and emotionally exhausted.
These sessions are voluntary for any CD employee that wishes to attend. You will need to complete the registration form for the day(s) you wish to attend; the link to the meeting will then be sent to your email.
Contact: District Services, 405.521.2384
Please contact Clancy Green (clancy.green@conservation.ok.gov) for registration information.