Erosion Demo helps Hughes County Boy Scout Troop Earn Environmental Science Badge
Submitted by Andrea Jones, Hughes County Conservation District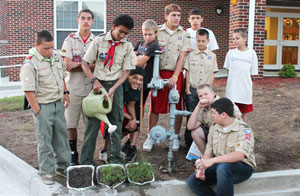 Andrea Jones, Hughes County Conservation District, was the featured speaker at the monthly meeting of the Holdenville Boy Scout Troop 456 on April 23, 2012, at the Holdenville Methodist Church. Jones presented a soil erosion demonstration and told the Scouts about the different varieties and colors of soils in Oklahoma. She showed them pictures from the Dust Bowl and pictures from dust storms that swept through parts of Texas and Arizona in 2011.
Jones explained how vegetative ground cover can protect soil from washing away during rainfall. She led the Scouts in an erosion demonstration pouring water over three boxes of soil. One box of soil had no vegetative cover, one had moderate cover and the third had heavy vegetative cover. Through the demonstration, the Scouts were able to recognize differences in soil loss in each of the samples.
Scout leader David Cowart added to the discussion, telling the Scouts how even small changes can affect the environment. He emphasized that it is the Scouts' responsibility to ensure their actions don't harm the environment. Jones reminded the Scouts that all of the food to feed the planet comes from a thin layer of topsoil on a fraction of the earth's surface.
The Scout Troop earned an Environmental Science Badge as a result of participating in the discussion and demonstrations and by demonstrating an understanding of the topic.