EPA Tours Conservation Work in Illinois River Watershed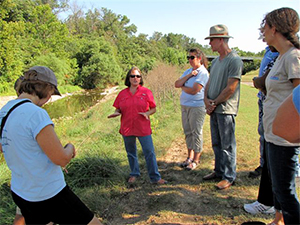 As part of an end-of-year review for Oklahoma's Clean Water Act (section 319) Nonpoint Source Pollution Program, Environmental Protection Agency (EPA) Region 6 participated in a tour of the Illinois River watershed. The EPA is an essential partner in Oklahoma's efforts to protect water quality, providing funding and technical support, so it is important for EPA staff to observe firsthand the crucial work being done to keep Oklahoma's waterways healthy.
The tour showcased the vital "Conservation Partnership" between the Oklahoma Conservation Commission (OCC), Natural Resources Conservation Service (NRCS), Farm Services Agency (FSA), and other partners. It was attended by Mike Bira, Sharon Daugherty, and Phillip Crocker of EPA Region 6, Steve Glasgow and Chad Kacir of Oklahoma NRCS, and Tashina Kirk, Gina Levesque,Ed Crall, Brooks Tramell, Greg Kloxin, Stacey Day, and Shanon Phillips of OCC.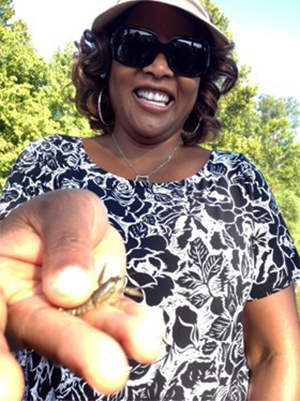 Keep it Clean
The group toured sites enrolled in OCC's clean water project, sites participating in the Conservation Reserve Enhancement Program (CREP), and streambank restoration sites. Gina Levesque, CREP coordinator, and Tashina Mitchell, Illinois River Water Quality Project coordinator, discussed how these programs work together to improve water quality in the watershed.
Several types of "best management practices" (BMPs) were observed, including off-stream water supplies (such as the tire tank seen to the right), riparian fencing to exclude livestock from the stream, and dairy lagoon improvements. These BMPs are designed to keep manure, nutrients, and soil in fields and out of rivers where they can damage delicate aquatic ecosystems and pollute water supplies.
Showing Off
Successful streambank stabilization projects have reduced erosion and also work to filter runoff, resulting in cleaner water reaching area streams. Conservation Commission Blue Thumb coordinator, Cheryl Cheadle, and several volunteers met the group at one of their monitoring sites in Tahlequah, which is also a streambank project area.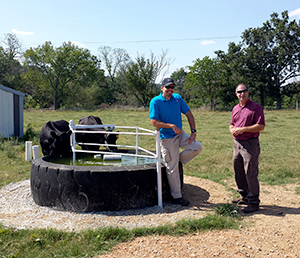 The group talked about their work in the watershed, highlighting many of the visible improvements the streambank project has made at the location. Volunteers also demonstrated some biological monitoring techniques such as testing the chemical makeup of water samples and collecting fish to track biodiversity and population sizes. The Blue Thumb program receives funding from EPA to provide environmental education throughout the state.
After all their hard work, the group floated down a short stretch of the Illinois River and left with a lasting up-close image of one of Oklahoma's most scenic resources.