Employee Recognition Week 2010
The Oklahoma Conservation Commission marked Public Service Employees Recognition Week with a number of activities. (More)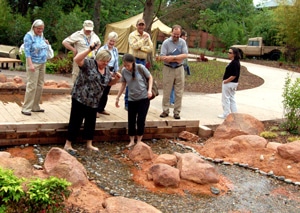 The week began with OCC's monthly Commission meeting held at the Oklahoma City Zoo rather than its usual meeting place in the state Agriculture Building. A luncheon for Commissioners and agency staff followed along with an OCC Full Staff Meeting. During the staff meeting Tashina Kirk, OCC/WQ project coordinator, was named Employee of the Quarter and Brooks Tramell, OCC/WQ monitoring coordinator, was named Employee of the Year. After that, OCC employees were treated to a guided tour of the Oklahoma Trails exhibit at the zoo.
On Tuesday OCC staff members were transported to the official practice site for the National Land and Range Judging Contest, which ran May 4-7. Greg Scott, USDA Natural Resources Conservation Service state soil scientist for Oklahoma, explained to OCC staff members how the contest functions and how the contestants determine soil properties appropriate for different land uses.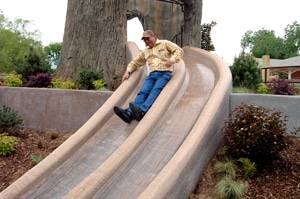 For OCC water quality employees who work in northeast Oklahoma, the Oklahoma Scenic River Commission (ORSC) hosted an Illinois River streambank cleanup event on Wednesday using canoes donated for the day by a local vendor. Ed Fite, OSRC administrator, accompanied the group and gave a history lesson on OSRC along with a lesson on the hydrology and geomorphology of the river, and provided lunch for the group.
On Thursday, OCC staff enjoyed an ice cream social with homemade ice cream at the Agriculture Building OCC office.