Employee of the Year: Dennis Boney
Dennis Boney, OCC/Conservation Programs watershed technician, was recognized at the June 2012 Commission Meeting for being named Employee of the Year at the May OCC full staff meeting. He was recognized as Employee of the Quarter at the March 2012 meeting of the Oklahoma Conservation Commission.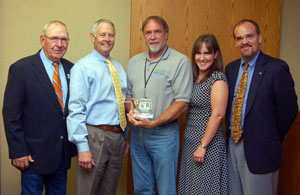 Dennis was recognized in July 2011 for 25 years of service to OCC and the state of Oklahoma. He started his career as an employee of the Garvin Conservation District. With responsibility for operation and maintenance of 146 small watershed upstream flood control dams in the district, Dennis developed and honed skill that led to his selection as one of the first watershed technicians for OCC — a pioneering position unique to Oklahoma and not found in any other state to date. In addition to the conservation districts who rely on his knowledge and skills, he has participated in numerous presentations at national watershed operation and maintenance (O&M) workshops.
Dennis also helped develop the watershed aide position, another job unique to Oklahoma. The position consists of a conservation district employee with responsibility for O&M on watershed dams in one or more districts, who is jointly supervised by the district board and OCC's watershed technicians. This shared staffing strategy has been adopted in other parts of the state as a way coping with budget cuts and reduced personnel resources.
The nomination form for Dennis stated "Dennis has exemplary customer service orientation, is always willing to contribute to teamwork, has 25-plus years of proven problem-solving skills and exhibits excellence in leadership by exerting positive influence on everyone he comes in contact with through a humble personality, respect for authority, and a positive mental attitude that makes him a pleasure to work with. Dennis is a model employee who displays trust, loyalty, commitment, dedication and a striving for excellence in all that he undertakes."