Employee of the Quarter: Tashina Kirk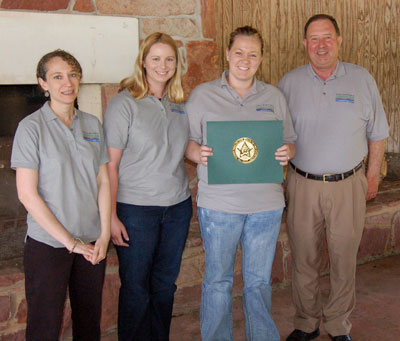 Tashina Kirk, OCC/WQ Illinois River Project coordinator, was named as Employee of the Quarter at the quarterly OCC full staff meeting, held at the Oklahoma City Zoo on May 3, 2010..
Her nomination form read "As a 319 project coordinator, she is responsible for working directly with the public to sign up landowners to implement best management practices (BMPs) in the Illinois River watershed. The job requires excellent written and oral communication skills, ability to design and write farm conservation plans, attention to detail and ability to keep accurate records in spreadsheets."
The nomination cited her pleasant attitude and willingness to help others as well as her excellent work ethic as evidenced by the number of BMPs completed in her project watershed. Her willingness to help others was shown recently by her assistance to a coworker in another location to organize project spreadsheets.
"Her outgoing personality and positive energy has made our project very successful. She does an excellent job of communicating with the local producers and making them feel at ease about signing up and participating in state-led programs. Although she is very busy signing up landowners for implementation and writing conservation plans, she finds time to keep all of her spreadsheets and files organized and up to date," the nomination read.