Employee of the Quarter: Tammy Sawatzky
Tammy Sawatzky oversees the operation, maintenance, and rehabilitation of the state's upstream flood control structures. Implementation of these initiatives requires coordination between districts, OMES construction and properties, contractors, NRCS, and a small, but able and knowledgeable staff of watershed technicians. The coordination and support for these efforts is enabled by Tammy who oversees the enormous amount of administrative and oversight work to lead these programs which range into the tens of millions annually.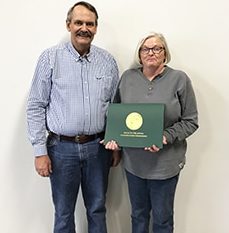 Add to that direction of the Locally-Led Cost-Share Program which enables conservation districts to cooperate with landowners and implement projects that result in significant pollution reduction each year and you have a very full spectrum of responsibilities for any one person to oversee.
Not only does Tammy Sawatzky successfully run two of the most important programs for the conservation partnership, but she does so quietly, efficiently, and without complaint, saving the state hundreds of millions of dollars each year.
Rather than pushing for additional staff to help lighten the workload, Tammy has instead focused on using available program funds to support program activities, either through additional funds for the Locally-Led Cost-Share Program, or insuring as much funding as possible for the Operation and Maintenance and Rehabilitation that benefits districts. She's also quick to step in to share her knowledge about processes, where to find information, or even give advice, when asked, about the best way to approach something. In other words, rather than find help for herself, she's working to provide help for others.
Tammy should be commended for her work ethic, her professionalism, her ability to organize complex and effective programs, and her can-do attitude. The OCC is a more successful agency because of her efforts. Her knowledge, abilities, and willingness to contribute have become even more critical as the agency staff have shrunk in numbers but not responsibilities.
Congratulations Tammy!