Employee of the Quarter: Shellie Willoughby
Shellie Willoughby, Oklahoma Conservation Commission GIS Specialist, has many roles and is outstanding at each whether that involves 911, maps for State Legislative or Congressional Districts or as in one example, her excellent work, well beyond her normal duties, by creating the Blue Thumb data entry App and also the data viewable App Map.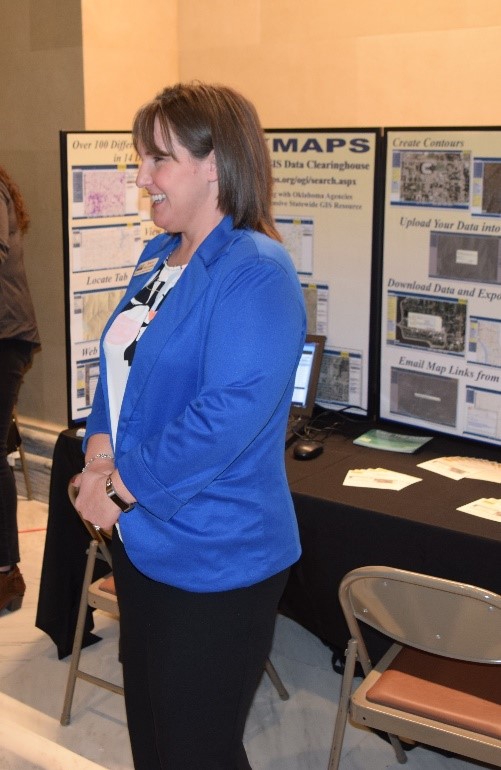 Both are special projects that she jumped on. In Summer 2019 Shellie was asked if she could build an App for Blue Thumb volunteers to enter their data so Blue Thumb could get away from the Adobe fillable form and into more modern technology. Shellie earlier had created a data entry page for Jeanette using Survey123; melding that with App work started with Michigan Tech.
Her nomination for this award, said, "A year later we have EXCELLENT quality outputs of both a data entry App and also an App Map where anyone can view the data that has been entered into the App." This App Map, especially, is something Blue Thumb has wanted for years; now volunteers/anyone can see the data, on a map or in tabular form. Shellie did A LOT of research to make these Apps work for us. She reached out to Arizona Water Watch and got a lot of help from them to even start the blueprints for this. Even had some questions for Esri that they never thought of. Shellie is always there, asking what changes we need or want and suggesting GIS ideas. She is always joyful, and gets edits done super quick. She is just fantastic to work with. She presented the App Map on Zoom that was also recorded for future reference. We can go on and on. Shellie has certainly earned this recognition and more.
Three of Shellie's many outstanding characteristics are that she researches a lot on her own to make it work; is a pleasure to work with and is self -motivated.
Three things we have seen Shellie contribute to the agency, community or the State of Oklahoma are: She is always there to help with any project that includes a map; she uses her GIS skills to convey information in a user-friendly way, and she is a bright, joyful light to have around.
Congratulations, Shellie!