Employee of the Quarter: Sarah Gilmer
Sarah Gilmer, Wetland Specialist of the Oklahoma Conservation Commission (OCC), joined the Conservation Commission a little over 3 years ago. She has been continually asked to take on new tasks, which she has tackled willingly and with great success. While her exemplary work is always worthy of recognition, over the last 6 months Sarah Gilmer has worked determinedly on several projects that will improve the conservation of aquatic resources in Oklahoma.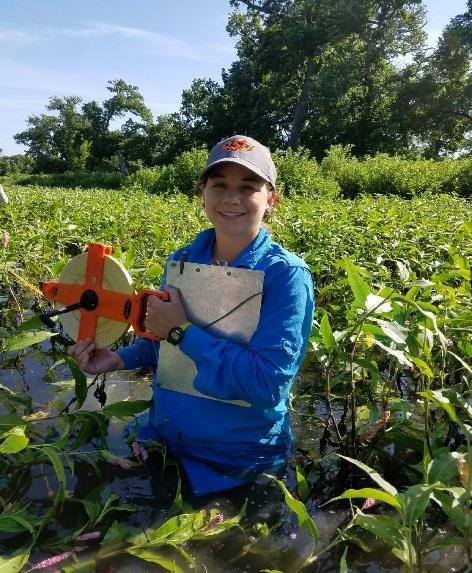 First, Sarah refined and completed a screening level assessment of potential wetland restoration opportunities across the entire state. This effort required analytical skill and meticulous planning to ensure the accuracy of the final dataset, which included close to 30,000 potential restoration opportunities. Ultimately, this dataset will be made available to the public so that those with restoration needs can prioritize restorations that best enhance wetland functions as well as improve the water quality of downstream creeks.
Additionally, Sarah has provided a critical review of water quality standards and biocriteria, as we prepare for interagency coordination meetings. Like the approach she takes to all the work she does, Sarah has focused on how our monitoring data can be best used to assess the condition of our streams for the betterment of Oklahoma and its residents.
Sarah's outstanding characteristics include, she is: Diligent, Analytical and Meticulous.
Among the many things she has contributed to this agency, the community and the State of Oklahoma, are: Creation of a statewide dataset of potential wetland restoration opportunities; Critical review of water quality standards and biocriteria to improve the accuracy of reporting on the condition of Oklahoma streams; and Planning and preparation for the next cycle of monitoring in Basin 5 (Lower Red River) set to commence this spring.
Congratulations, Sarah!