Employee of the Quarter: Mike Sharp
Mike Sharp was recognized as Employee of the Quarter at the February 10, 2014 meeting of the Oklahoma Conservation Commission (OCC). Mike is the director of the Office of Geographic Information and Technical Services; Assistant Director of the Abandoned Mine Lands Division; and the State Geographic Information Systems (GIS) Coordinator.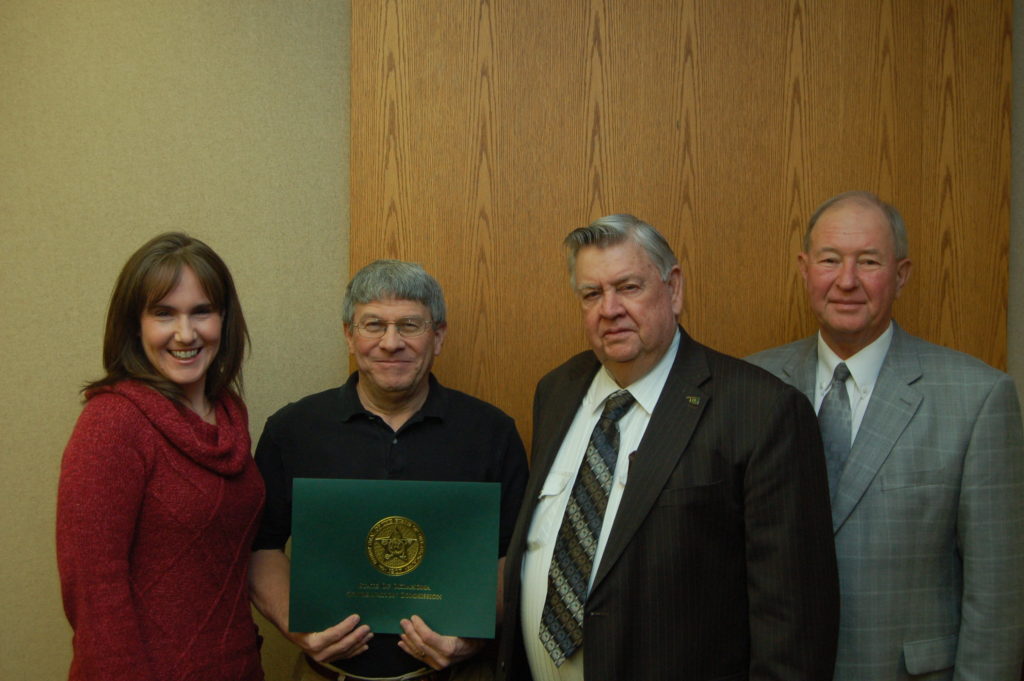 Mike also serves as the State Geographic Coordinator and Chair of the State Geographic Information Council. Mike maintains and supports the Council's GIS Data Clearinghouse, OKMAPS, which has become an important GIS resource not only to the people of Oklahoma but across the country. Mike provided GIS support to the Oklahoma Department of Emergency Management and the State Incident Management Team during the May 2013 tornado events and the December ice storm. His assistance in the aftermath of these incidents enabled more efficient and coordinated responses by various emergency response teams. 
Mike is a model employee in many ways. He has an outstanding work ethic and often gives of his own time to make sure a job gets done well.  Most recently, Mike worked very closely with the Office of Management and Enterprise Services (OMES) to make sure that our agency's IT consolidation went as smoothly as possible. When OCC lost its IT person to consolidation, Mike took over IT support to the 88 conservation districts and field staff in addition to his regular job duties. He continues to work with OMES to ensure that IT needs are addressed within a reasonable timeframe, and he mediates for OCC if issues are slow in being resolved. Mike represents the OCC in a very positive way and deserves recognition. Thank you, Mike!