Employee of the Quarter: Lynn Weldon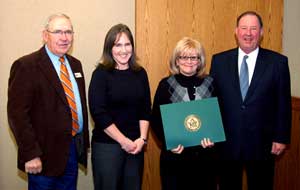 Lynn Weldon, OCC/FMHR Human Resources coordinator, was recognized at the January 2012 meeting of the Oklahoma Conservation Commission after being named as Employee of the Quarter at the OCC Full Staff meeting Dec. 12, 2011. Lynn is responsible for all Human Resource issues for the agency and the 87 local conservation districts. She coordinates insurance and benefits for all OCC and conservation district employees and helps new and retiring employees with necessary paperwork and forms.
Each October Lynn takes to the road, holding a series of meetings in different areas of the state for conservation district employees. She explains the often complex changes in insurance and benefits and helps employees get enrolled for the coming year. Some HR coordinators might do that using email and telephone calls, but Lynn says she likes to interact with employees fact-to-face, to answer questions or make clarifications as needed.
The nomination form for Lynn stated that the Human Resources position is one that is vital but not glamorous. "She is always prompt in responding to phone calls and emails and is willing to help answer questions." The form goes on to say that despite multiple new requirements and options this year, many of them complicated and requiring additional forms from various websites, that "Lynn once again went above and beyond the standard level of effort and painstakingly made sure that all employees were clear about insurance options, changes and requirements…Lynn's outstanding efforts during this time make her very deserving of the Employee of the Quarter Award!"
A state employee since January 1995, Lynn previously worked for the state Department of Agriculture, Food and Forestry and the Department of Corrections before joining OCC in April 2004.