Employee of the Quarter: Lisa Knauf Owen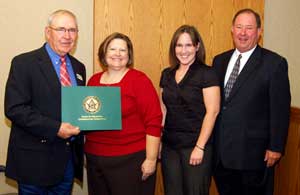 Lisa Knauf Owen, OCC District Services director, was recognized as Employee of the Quarter at the October 2011 meeting of the Oklahoma Conservation Commission. Her selection was announced at the OCC full staff meeting on Sept. 28, 2011.
Lisa started her career in conservation working for the Rogers County Conservation District as the first Conservation Reserve coordinator at Rogers State University in 1989. She left there to work for the state forest service in Maine for a few years then returned to Oklahoma in 1994 as the education coordinator for OCC's District Operations Division.
In October 2001 Lisa was named director of OCC's newly-created District Services Division, the agency's primary liaison to help conservation district boards and employees facilitate and enhance their capabilities to deliver their services and programs. For a time she was literally an "army of one," serving as liaison with the state's conservation districts on behalf of OCC, then her division was enhanced with the addition of a part time employee and later a full time employee. Working together they created a series of documents, "10-Minute Management Guides for Conservation District Directors," to serve as guides to district boards on a variety of day-to-day issues. She and her staff attend district board meetings and work in district offices to assist in operational issues and capacity-building opportunities. They provide needed training and professional development for both conservation district employees and directors and assist districts on legal affairs, natural resource planning and reporting, district board functions, human relations, conflict resolution, and finance and personnel management. As primary investigator in to district financial issues when necessary, she has compiled years of bank records and other documents on which to base corrective actions.
The nomination stated "Lisa Knauf Owen is a portrait of dedication, professionalism, and work ethic and deserves to be recognized as the Oklahoma Conservation Commission Employee of the Quarter."